After the Clemson Tigers football team won the NCAA national championship, President Donald Trump threw them a celebratory dinner they won't soon forget. The meal was far from the traditional gathering as well as from what the team likely expected when they were invited to the White House. Due to Trump's government shutdown, it seems the president had to buy dinner himself. Instead of offering the athletes a nutritious catered meal, he chose to clean out every fast food restaurant within a five-mile radius. Trump cleaned out every Burger King, McDonald's, Domino's, and Wendy's restaurant in the area and wasn't shy about sharing his generous gift on Twitter.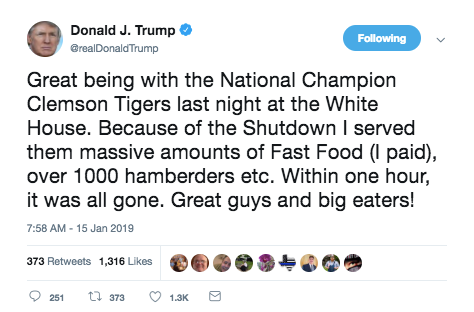 Unfortunately for Trump, his "hamberders" typo has made him an even bigger joke on the internet. Fortunately for us, however, we get to laugh at all of these hilariously creative responses to his Twitter error.
1. Burger King's Epic Clapback
Leave it to Burger King themselves to come up with an epic response to Trump's "hamberders" tweet. Looks like Trump wasn't able to clean out the burger joint after all, regardless of how "very rich" he claims to be. This definitely helped the fast food chain drum up some business last week.
2. Make Taco Bell Pay For It
Notice how Trump's fast food shopping spree didn't include Taco Bell? A man who is so against Mexicans immigrants couldn't possibly be seen scarfing down a burrito. The tiny-handed Hamburgular might think he'll be able to get Mexico to pay for whatever he wants, but as we all know, that's not so easy.
3. Back To The Future
Imagine Marty McFly saw this picture on the front page of every newspaper after returning from one of his action-packed trips back in time. It would be reason enough to create a fourth addition to the film series. Maybe that's what's happening right now. Maybe we're all in some kind of alternative universe created by a time traveler who managed to screw something up. They just haven't figured out yet how to fix everything I guess.
4. Failed Expectations
This tweet depicts what every Clemson player had going through their mind on their way to the White House vs. when they got there and saw the pathetic meal Trump had laid out for them. The president might have thought his fast food run would earn him points with the team, but instead it made him the joke of the evening. If he was as wealthy as he claims to be, he could have easily ordered an appropriate meal for them all.
5. Pizza Hut White House Combo
Forget about your local Taco Bell Pizza Hut. It certainly can't top the latest hot pop-up spot in D.C., the Pizza Hut White House combo! Next thing we know, Trump will be building his very own drive-thru window in the Oval Office where the food is dropped off rather than picked up.
6. Child President
If you needed further proof that Trump is a child trapped in an overly spray tanned man's body, then just look at the pictures of him gloating over a bunch of BigMacs. In fact, if I remember correctly, there's a scene just like this in one of my favorite Sinbad films "First Kid."
7. Newly Divorced Dads
Divorced men everywhere are insulted by this comparison, but they have to admit it's just hilarious. If you were ever a child of divorce, then you know this scene more than anyone. You might also know that it's not just the first dad's weekend that looks like Trump's dinner table.
8. Proud Pop
Trump is far prouder of this collection of burgers than he is of his own kids, and even they know it. Perhaps a few french fries can't top Trump's relationship with Ivanka but we all know that his sons aren't exactly his favorite people these days.
9. All For A Cheeseburger
Imagine flying all the way to D.C. for what you expect to be one of the most fabulous meals of your life only to find that you've flown for hours for a $2 burger. And not just any $2 burger, but one you could have easily gotten at home. Talk about a slap in the face.
10. Jazz Hands
What's a few hundred burgers without a side of jazz hands? Whether you're a cheerleader with an eating disorder or a racist country leader, jazz hands are essential!
11. A Moment In History
Think Trump's burger speech will end up in the history books? Likely not. At least, not in any of the books that were written with the intention of being read anywhere other than in the bathroom. What are those books called? Joke books?
12. After Hours Conference Call
Burger King's social media team is the envy of everyone in the industry these days, and both Wendy's and McDonald's need to step up their game. Can you picture their social media teams in a frenzy after catching wind of Burger King's tweet trying to figure out how to top it? Obviously, they couldn't come up with anything better than Burger King's epic clap back, but calling the president a dumbass would have been a poor attempt at a comeback, to say the least.
13. Adding The "Hamberder" To The Menu
Trump-inspired sandwiches have been popping up all over the country, but there has yet to be a burger inspired by the man. Likely because it wouldn't have enough meat to entice anyone to buy it. But this tweet is an exceptional start to Burger King's new menu option with its large buns, small meat, and plenty of mushrooms.
14. The King Is The New President
All hail Burger King's social media manager, as they are our leader now. Bye-bye President Trump. The King is moving into the White House any day now.
15. President Ronald McDONALD
With Burger King's social media manager taking over the Oval Office, Trump will be open to new employment opportunities. McDonald's might need to step up their marketing game since Burger King's tweet has put them at the top of the fast food chain. Turning Trump into their very own Ronald McDonald clown just seems like the perfect opportunity. If the name fits, why not?