If you haven't noticed, President Donald Trump has child-like tendencies that are far from endearing. His temper tantrums range from uncomfortably amusing to shockingly cringe-worthy with hardly a day gone by without incident. It's not always easy to determine what qualifies as a full on tantrum and what registers as just a petty remark, but I think we've compiled a decent list here of all of Trump's most notable tantrums since coming into office.
Trump's Twitter Tantrum Takes On Fake News Media
Trump's Twitter tantrums often show his rage against this alleged fake news media he is convinced exists only to spread heinous lies about him. As of this moment, he has 374 tweets about fake news, many of which qualify as unnecessary outbursts, but how many can be categorized as tantrums? This particular tweet seems to work as he not only calls the media "crazy" and "unhinged" but he seems to think he's the only reason they have any ratings. Trump also demonstrates how highly he thinks of himself by assuming he will be voted into office for a second term.
Trump Calls Out Republicans Who Snubbed Him
After the midterm elections, Trump literally listed the names of any Republican candidate who refused to embrace him in a press conference. He even followed up with some snide remark about them losing the election in some cases. He may have kept calm, but this is certainly a typical Trump tantrum that makes you wonder if his advisors are even doing their jobs anymore. Here's a glimpse at what he said:
"… On the other hand you had some that decided 'let's stay away, let's stay away' they did very poorly. Carlos Cabello. Mike Coffman. Too bad Mike. Mia Love, but Mia Love gave me no love and she lost. Too bad, sorry about that Mia. Barbara Comstock but she didn't want to have any embrace. Peter Roskam didn't want the embrace. Erik Paulsen didn't want the embrace."
Trump Lashes Out On The Media
In the same press conference, Trump lashed out on members of the media simply for doing their job. Journalists were asking him questions he simply didn't have the answers to and his frustration became apparent when he called PBS Newshour correspondent Yamiche Alcindor's question racist. It seems important that I point out the fact that Alcindor is black, as Trump has been accused of racism on more than a few occasions. She later tweeted about the event saying:
"I asked President Trump what he thinks of people seeing his rhetoric as emboldening white nationalists and whether he was concerned that Republicans would be seen as supporting white nationalists. His response: 'That's a racist question.'"
Trump then went on to berade CNN's Jim Acosta calling him "rude" and "the enemy of the people." This is the infamous exchange in which Acosta was accussed of assaulting a woman who was trying to take the microphone that was in his hand and had his press pass temporarily suspended.
Trump Calls Out Iranian President
This past summer, Iranian President Rouhani warned that Americans "must understand that war with Iran is the mother of all wars and peace with Iran is the mother of all peace," during a televised event. Trump took this as a threat and instead of responding in a responsible mannor like a president should, he took to Twitter, and not even the official Twitter page for POTUS. The President of the United States used all caps to intimidate the Iranian president in this Twitter tantrum, one that likely got a few laughs from our enemies overseas.
Trump's Tantrum Over Russia Investigation
Trump is so desperate to stop the investigation into Russia's involvement in the last presidential election, and it shows in this Twitter tantrum. It screams of guilt as Trump calls the investigation a "witch hunt" and asks for Attorney General Jeff Sessions to end special counsel Robert Mueller's investigation.  Too bad his genious plan didn't work.
Trump's Border Security Tantrum
Trump's border wall often triggers one of his infamous tantrums, and a televised meeting with House Minority Leader Nancy Pelosi and Senate Minority Leader Charles E. Schumer was no exception to enduring his juvenile behavior. Watch as Trump interrupts the two politicians at every moment he gets, and even inspires a few chuckles on Schumer's end. The meeting that took place in the Oval Office was the last attempt to avoid a government shutdown. Both Pelosi and Schumer said there were fair compromises being considered, but we all know how that turned out. The conversation gets so heated at one point that Schumer asks that they continue the debate in private later.
Later Trump calls the need for a wall a "national emergency" because people are bringing drugs into our country and coming here illegally with their contagious diseases. If that's the case, then our country has had this national emergency for many, many years now. He ends up yelling at Schumer claiming to be "proud" to shut down the government for the sake of border security and quickly ends the meeting.
Trump Lashes Out On Kim Jong Un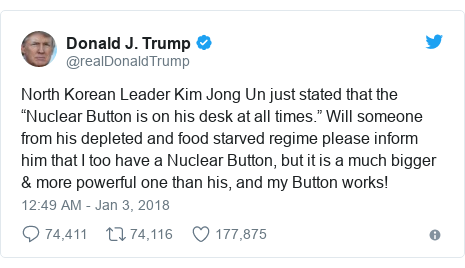 It's scary to think this, but you have to see that Kim Jong Un and Donald Trump are two peas in a pod. Before the two met, they seemed to rub each other the wrong way, and it resulted in a few burst-like tantrums on Trump's end. It seemed to begin when Jong Un allegedly called Trump "old," which caused the president to rebuttal with an indirect insult calling the North Korean dictator "short and fat." This eventually led to nuclear bomb threats and Trump creating the nickname "Rocket Man" for Jong Un.
At least Trump had a witty response to these nuclear threats. By letting an unbalanced dictator like Kim Jong Un know that his nuclear button is bigger and more powerful, we can ensure that at least if we die they'll die as well. However, whether or not that's enough to keep Jong Un's hands off of his nuclear button is undetermined. Hopefully, the men and women behind our government as well as theirs were smart enough to not make either button functionable.