'Tis the season to be politically correct and to keep your views in check. Or is it? When you're around family or at work you might have to bite your tongue, but as long as your social media pages are set to private you can go crazy. What better way to do that than with memes? Embrace the holiday spirit this year by sharing these incredibly offensive political memes.
For Those Who Believe In Donald Trump
Adults who believe Donald Trump is doing well as president are the same kinds of people who believed in Santa Claus and the Tooth Fairy into their teenage years. Some people just can't manage to grow out of that phase and are always in search of their superhero. Trump fills that role, and while he might not wear the red suit and hat, he does let you sit on his lap and beg for toys if you can offer him something in exchange.
Black Santa Claus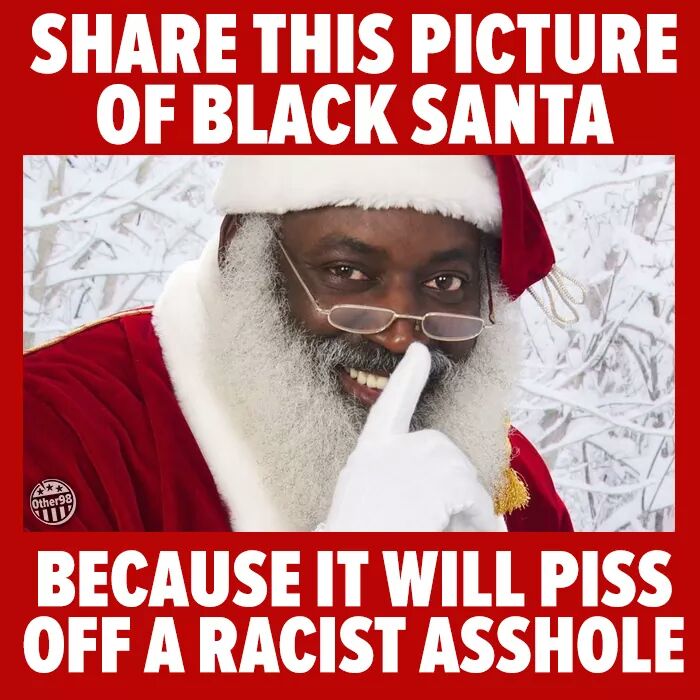 The only thing you can share that would piss off people more than a photo of a black Santa Claus is a black Jesus. This is probably the fastest way to weed out all of the racists in your life though. Just post it and watch as the number of followers you have quickly starts to dwindle.
Politically Correct Christmas
Haven't you heard? Everything that is red must have "Merry Christmas" written across it for the month of December. If you have any conservative followers on your social media pages, sharing this meme will definitely stir up some shit.
Separation Of Church And State
We might say in our country that there's a separation of church and state, but we all know that couldn't be further from the truth. Religion is used to fight everything from abortion laws to gay rights, but those things don't count. I think this meme offers a pretty good deal.
Cheers To These People
Feel like being a tad passive aggressive this holiday season? Then definitely add this meme to your social media's repertoire. Especially if there are a few people on your newsfeed who find the need to comment on just about everything political.
Just Another Christmas In North Korea
So, we know that we can't listen to "Baby, It's Cold Outside" on the radio anymore and it's only a matter of time before more items are banned. Before we know it everything we see on our televisions and internet will be censored.
It Looks Like Impeachment Season Is Coming
It's beginning to look a lot like impeachment and Republicans really can't deal. Nothing will offend your Trump-loving followers more than a meme with the president's face on it and their most feared word.
Hillbilly Christmas
Conservatives love their guns so much, there's no doubt that they're all wishing for a hillbilly Christmas. What's better than some handgun and grenade stocking stuffers? That leaves all of the assault rifles and shotguns for unwrapping under the tree! Throw in a few MAGA camoflauge hats and bulletproof vests and they'll be all set!