Ugly Christmas sweaters are still a thing and this year's play on the popular party trend is going political. These days, nothing is uglier than the Republican agenda, especially when it's paired with a holiday sweater. Step up your game this season and piss off your conservative relatives with one of this unique political ugly Christmas sweaters!
1. It's Gonna Be YUGE
Your Christmas is gonna be YUGE this year in this Trump themed ugly Christmas sweater. It's hilarious, yet only mildly offensive if you're not looking for holiday drama over politics. Granted that anything with Trump's face on it should rightfully be considered ugly, this sweater is actually kind of nice to look at.
2. This Is Going To Be A Great Christmas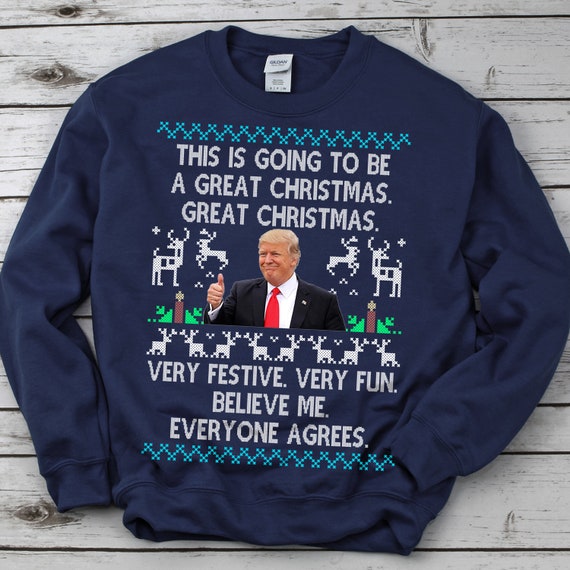 This Christmas is going to be great. Very good holiday season. I promise you that. Everyone thinks so. We're seeing record numbers in sales. Democrats will have you believe otherwise, but our economy is better than it's been in years. Everyone's gonna be wearing this ugly sweater, you'll see. This Christmas is gonna be huge!
3. Feliz Navidad
This mildly racist ugly Christmas sweater is the perfect outfit to wear to any holiday dinner you have planned this year. Especially those who will be dining among fans of Trump and his immigration policies. It's cheeky and ugly all wrapped in one!
4. Demand To See Jesus' Birth Certificate
If Jesus existed during our time, Trump would demand to see his birth certificate. Then when one was produced, he'd manage to convince his minions that it was fake news. He'd stick Jesus in one of his immigration detention centers and bash him and his family on Twitter until Trump himself was considered the next Messiah. It's a dictator's world, and we just live in it. Be prepared to start some serious debates when you wear this ugly political sweater to Christmas dinner!
Get yours here!
5. Merry Trumpas
You haven't lived until you've seen this ugly sweater depicting Trump as Santa Claus spanking a very naughty Kim Jong Un. Labeled "Rocket Man" on Trump's naughty list, his name is written directly after Hillary Clinton's. I wonder if Trump threw on the red suit and gave her a spanking as well.
6. Putin On The Naughty List
We all know that Putin loves to ride animals topless, so there's no doubt that Trump's budding relationship with the Russian dictator will lead him towards a similar hobby. Or at least we'd like to think so. If your political interest includes Trump's inappropriate relationship with Putin, then this ugly sweater might be right up your alley!
7. God Bless Everyone Except…
Our dear, sweet president would like to wish us all a very happy holiday and to bless us all. Except, of course, Mexicans, women, and other immigrants. The designers behind this hilarious ugly sweater obviously didn't have enough room for everyone else Trump would exclude from his blessings including the LGBT and transgender community, black people or anyone who can't pass for white, poor people, Dems and liberals, members of the media, and Hillary Clinton.