Wakeboarding — a surface water sport — was developed from a combo of surfing, water skiing and snowboarding techniques.
Basically, the 'wakeboarder' is towed in the motorboat's rear, depending on the board size, type of tricks, rider's weight, and rider's comfort speed. The wakeboard used is typically a small, largely rectangular, thin board with very little reorientation and shoe-like bindings affixed to it — not a human being.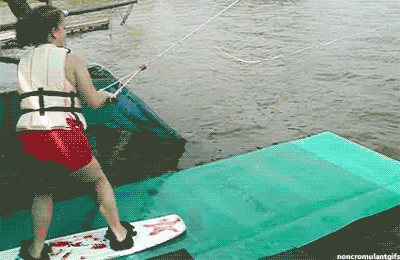 Below is a video of some genius letting some other road scholar stand on his back and surf him like a human wakeboard. Why? Presumptively to prove his friendship.
Now, we all have an instinctive eagerness to be accepted by others … however, this pushes the envelope all the way off of the desk!
The term "wakeboarding" was coined by Murray Fraser (Vancouver, Canada), along with his brother Paul and a pro snowboarder they sponsored.
As you can fathom, there are a variety of hazards associated with the water sport. One peril in wakeboarding is the tow rope. This rope is required to pull a boarder behind the ski boat, though it comes with the prospective to burn, strangle, or even sever.
Providing you like water skiing, snowboarding or surfing, wakeboarding is an awesome summer sport that furnishes many different fitness and health benefits. Boat speed for wakeboarding fluctuates with make, model, and weight total, but generally good waves forge around 10 mph and pro surfers will cap out around 12.5.
YOU MIGHT ALSO LIKE:
Woman Tries To Waterski Barefoot, Gets Launched Into The Sky & Disappears [Video]