Whether you're looking for inspiration for your baby's first Halloween or you just need a laugh, I assure you won't be disappointed. These politicians have never looked more adorable. Everyone from Bernie to Trump is represented, and these pictures are a must see! Check out the most adorable babies dressed as politicians for Halloween!
Hillary Clinton
The "I'm With Her" sign seems to be an essential aspect of the Hillary Clinton costume. That as well as an incredibly oversized Hillary wig that will leave you with one of a kind photos to treasure the rest of your life. When else is it acceptable to do this to your children?
That wig! I just can't! This is cuteness overload. Note how the baby is wearing a simple red onesie, which is nothing special. It's the bandana, Hillary's campaign button, and of course that wig that truly brings out the Hillary resemblance.
Same baby, but this time she's smiling. That wig is seriously on fleek!
For those mamas out there with a child who refuses to wear a wig, this is some inspiration for the outfit. The red suit is just delightful and can be worn again when dressing your little fashionista. Those baby pearls though are just too cute!
https://t.co/3rHBErQ5D0 Easy instructions for @HillaryClinton baby #Halloween costume #ImWithHer pic.twitter.com/4Ep5ciToOP

— Rookie Moms (@rookiemoms) September 19, 2016
If you're ready to dress up your little one like Hillary Clinton for Halloween this year but don't know where to start, this article can help. You can probably work with what you already have at home. If you think about it, any nice outfit with one of Clinton's campaign buttons attached will get the look across. I must insist that you put a wig on your baby though. It's just too hilarious not to!
Donald Trump
If your kid already has a suit, this Halloween costume will be fairly simple. This little guy even has the look down pat. Since he has some hair of his own, his parents went with a temporary yellow colored spray that washes right out. All he's missing is a bit of a fake tan, which the next kids certainly got right.
A little bit of blush or bronzer goes a long way when you're trying to pull off Donald Trump's look. This munchkin's parents were able to give him that look without going too overboard, preserving his cuteness. See what the right hairstyle, one of Trump's campaign buttons, and a suit can do? So easy!
What better way to skip the hair situation altogether than use a Make America Great Again hat!? The kid didn't even need to wear a campaign button to capture the essence of Donald Trump. The fact that he's starring at an iPhone, perhaps on Twitter, is just an added bonus!
I honestly have no idea how the hair was achieved on this baby. Whether it's a hairpiece or a specially made Donald Trump wig, it certainly does the job. He's even got the pursed-lipped look down pat!
If DIY isn't your thing, you can buy your infant a complete Donald Trump costume on Amazon!
Bernie Sanders
If you remember, a few years ago a popular hashtag #BabiesForBernie was used to share babies in support of Bernie Sanders. Many of them even chose to dress like the politician, and the results were understandably hilarious. Anytime a baby puts on a wig it's pretty funny, but when they're dressing up as an old man, you have to admit it's adorable.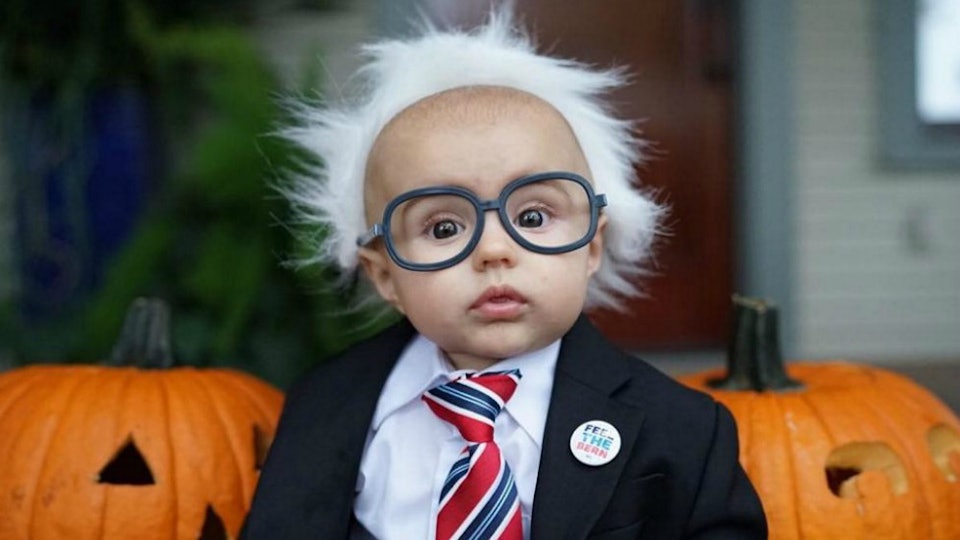 This kid definitely feels the Bern. It even says so on his button! Like the Donald Trump costume, it doesn't take much more than a suit to pull this off. Just be sure to steer clear from a solid red tie. That's Trump's signature look.
When you think of Bernie Sanders, likely the first thing to come to mind is his crazy hair and vintage glasses. If you're handy with a hot glue gun, you can make glasses similar to the ones the baby has on in this picture. All you need is to cut some hair from your Bernie wig and glue them to the top rims of a pair of infant-sized fake glasses. The look is just too cute not to try!
Even Bernie loves it when babies take on his look! This photo completely embodies the hashtag #CrazyHairDontCare.
Barack Obama
What better way to spend Halloween than at the White House dressed as the current sitting president? That's exactly was this cutie pie did a few years ago when Barack Obama was sitting in the Oval Office. To capture Obama's look, he's wearing the classic navy blue suit with an American flag pin. Obama's look might be sleek and refined, but this kid was certainly able to pull it off!
Look at this little one's face when he sees Obama. It's a mixed look of admiration and the kind of terror one only experiences when they come face to face with one of their idols. His navy suit doesn't have that snug fit that Obama is known for, but the kid probably grew into it in a few weeks.
Is that an Obama campaign pin I see? Look at the smile on this kid's face as Obama speaks on the news behind him. He almost looks like he's about to give a speech himself, doesn't he?
If these two kids are siblings, then I am thoroughly impressed that their parents got them to do this. While a child's black tuxedo is simple to find, that dress looks specially made. It almost looks nicer than Michelle's! Don't think I didn't see that the little boy's hair is sprayed to look like it's graying. These are the kinds of details that make a Halloween costume go from great to fabulous.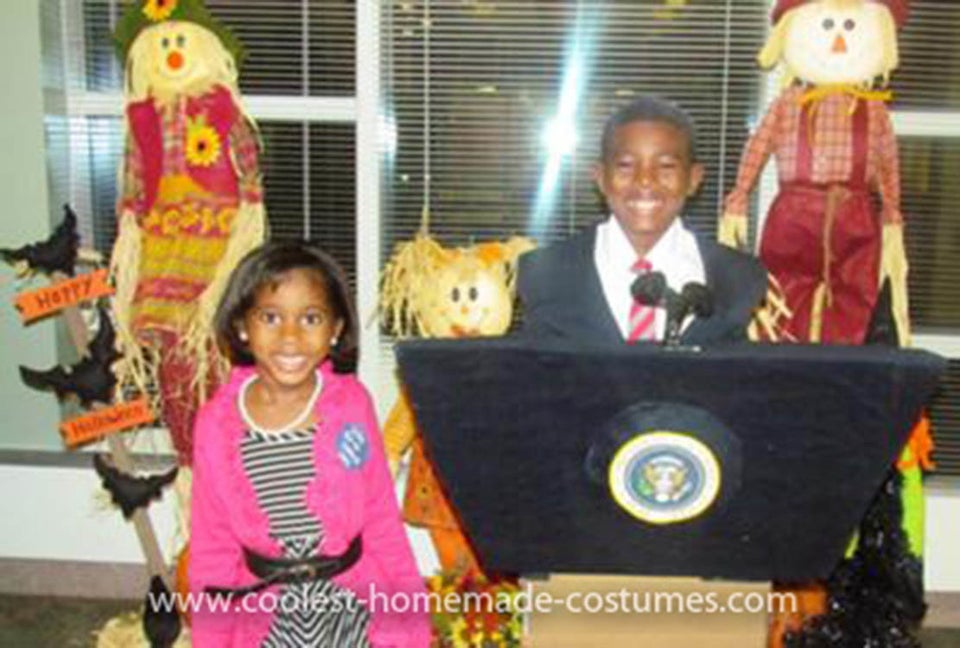 The only way to step up your game with your Obama costume is to create a podium to go along with it. With just a bit of cardboard, fabric, and a computer printer you'll be able to create your very own stationary podium. Or take note of the examples below.
The Secret Service
You don't need to dress your kids as a specific politician. This couple dressed their kids as the president and vice president while they acted as the secret service. They made a podium out of their infant carriers, which likely makes trick-or-treating a breeze. The next couple took it a step further, morphing their son's stroller into something Trump would probably love to be pushed around in.
Hope you've enjoyed these babies dressed as politicians and have a Happy Halloween!