You really get a feel for how sick and twisted some of your neighbors are when Halloween comes around. It seems that October brings out the inner homicidal maniac in many of us, inspiring some truly epic Halloween lawn decorations. And when politics are thrown in the mix, well, then you've got yourself an incredibly disturbing masterpiece. These are some of the most epic Halloween displays ever with a political flare.
An Anti-Terrorist Obama Display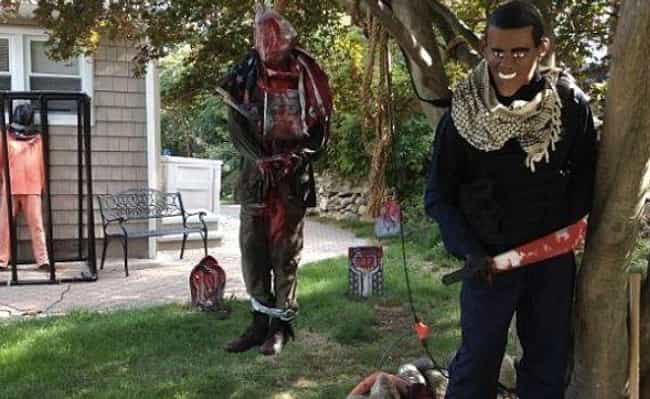 In an attempt to create an anti-ISIS Halloween display, a New Jersey house put a machete-wielding Barack Obama on their lawn. The tied up and bloodied mannequin behind him is meant to represent a terrorist, which Obama heroically defeated. When you're trying to come up with the scariest Halloween decorations possible, it makes sense to take from reality.
The mannequin in the cage represents Muath Safi Yousef al-Kasasbeh, the Jordanian Air Force pilot who crashed over Syria and was captured by ISIS in 2014. They imprisoned him before burning him to death in a live video in 2015. It's safe to say that the neighbors weren't exactly thrilled about having to look at this Halloween display that year.
The Purge Display
We might not be at the point of purging just yet, but you have to admit that if our darling government suggested it next week that it wouldn't be the most shocking thing they've done this month. This Halloween display is quick and simple, but still epic enough to draw the attention of neighbors. It's the DIY October decor for anyone who doesn't want to put more than an hour or two of effort into the holiday.
A Few Obamacare Displays
If you've ever tried to sign up for Obamacare, you know just how scary it is. From the lagging website and intentional misdirection to the overpriced insurance packages they so kindly offer you, it's the theme of most of our personal horror stories. While it's an alternative to the blood and gore some homeowners prefer, at least it won't scare away the kids while they're trick-or-treating.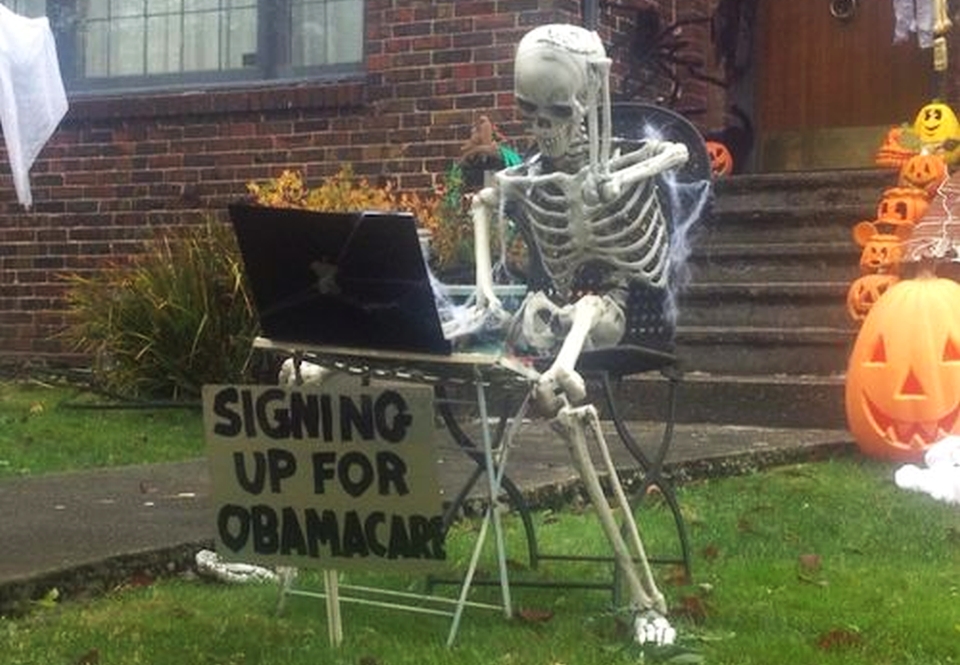 A little political humor goes a long way, and as a bonus, your house is less likely to get egged. This next house, however, definitely attracted its fair share of angry neighbors.
Sarah Palin Hung By A Noose Display
When this Halloween display popped up depicting Sarah Palin hanging by a noose while John McCain pops out of the chimney, seemingly engulfed in flames, it literally stopped traffic. Tourists came from all over to take photos of this clear political statement. It was inspired by McCain's Republican presidential candidacy with Palin by his side running for vice president. The Halloween display attracted the attention of more than just the neighbors. The mayor actually asked the homeowners to take it down!
The Trump Wall Display
A history professor in Connecticut uses his front lawn to teach his neighbors a little bit about politics, and that's exactly what he did the Halloween before our last presidential election. His Trump wall stood 8 feet tall and included a Trump tower and numerous armed guards. While the display is said to speak on both the Republican and Democratic party, the skeletons which are dressed as Mexican immigrants are all holding signs like "We were all immigrants," and "We are not criminals."
Yes, that's Hillary Clinton riding the Democratic Party's donkey mascot on the Mexican side of the border. "It's a crazy presidential election where it seems politics are out of control," said the creative mind behind this masterpiece and homeowner Matt Warshauer. "I am making a statement about both parties, the Republican and the Democratic party, but my primary concern is Donald Trump as a president."
The Hillary Hangman Display
President Trump is by far the crudest and most disrespectful politician of all time, and women tend to take the brunt of his nonsense. In a sort of feminist rebellion, this homeowner hung Trump on their front lawn. Literally. Holding the string to the noose is none other than Hillary Clinton, holding a campaign sign. Neighbors weren't exactly happy, but compared to some of the other political Halloween displays on this list, this one is pretty tame.
The Trump Care Gravestone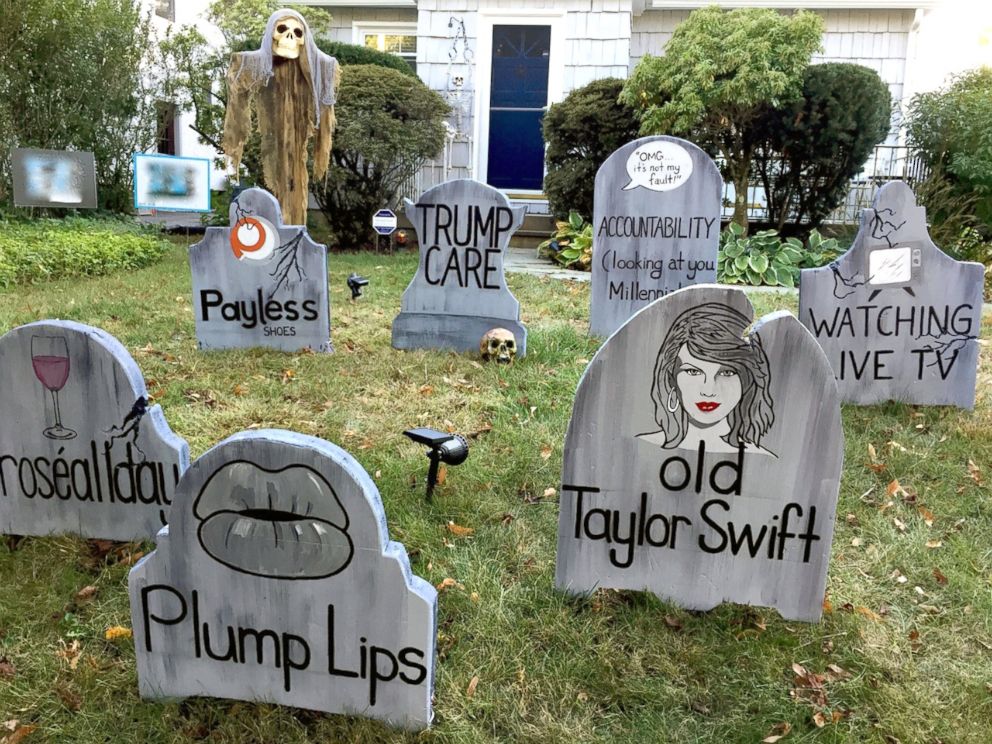 This creative homeowner assigned gravestones for everything that had "died" that year, including Trump Care, because we all know that's never going to happen. Sitting next to the graves of plump lips and the old Taylor Swift, it got me wondering what would be on the tombstones of this homeowner's lawn come Halloween this year. Trump's marriage. Kavanaugh's reputation. The possibility of a border wall.
Sarah Palin's Death Panel Display
Is that Sarah Palin in a sexy nurse uniform? When Palin accidentally coined the term death panel, she demonstrated just how little she understood Obamacare. It's understandable though, as most of us still don't understand it. For some reason, Palin thought that a panel would decide whether or not someone was worthy of health care, a "death panel." Isn't that how our system is designed these days anyway? Anyone without the money to afford health insurance has already been turned away by the panel and labeled unworthy, haven't they?
The Donald Trump Tombstone Displays
A modern twist on a Halloween classic, the Donald Trump tombstone has become a regular these last few years. What makes these displays epic are the unique poems (can I call them that?) written on them. "Under this stump LIES Donald T.Rump, In a state of Decomp. What an ass." It really doesn't get better than that, until you see the epic wordplay on the next one.
"Hear lies…" See what they did with that? An amazing play on words that Trump supporters probably won't understand anyway. So, there's no need for these homeowners to worry about angry neighbors or waking up to a driveway full of shaving cream.
The U.S.S. Constitution Pirate Ship Display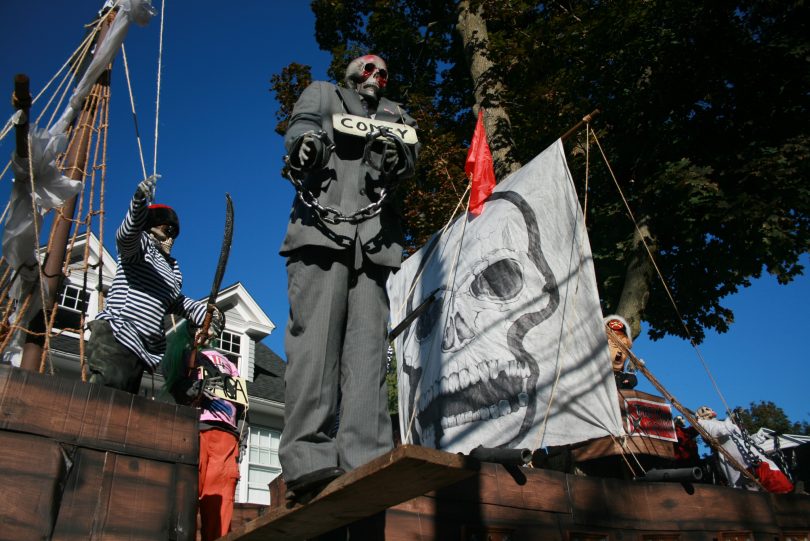 Professor Matt Warshauer, the same creator behind the Trump wall display, went above and beyond last year with this Russian manned pirate ship. Led by Trump, aka The Mad King, this Halloween display didn't skimp out on any details. James Comey is walking the plank, Hillary is running around with a book titled "Why I Lost," and Abraham Lincoln is sitting in a dinghy holding a sign that reads "What's become of my party?"
You can follow Warshauer's creative process at themindfulprofessor.org.