If you're part of the Trump resistance, you might be thinking about incorporating your political opinions into your Halloween costume this year. Anti-Trump costumes have been trending since the Cheeto-faced president started his campaign, but this year we predict people will be stepping up their game. Check out the best of 2018's anti-Trump Halloween costume collection and find inspiration for your favorite October events!
Fake News
Trump's favorite phrase has inspired a number of fake news Halloween costumes and this year will be no different. Whether you go for something homemade or buy the standard t-shirt costume, fake news is just as relevant now as it was then. Step it up and specify your costume by dressing up as one of Trump's favorite news outlets like CNN or NBC.
Trump Baby
The Trump baby blimp is one of the greatest things to have come out of Trump's presidency. If you don't recall, the blimp resembling the Cheeto-faced president in a diaper flew over the UK in protest of his recent visit and has been making its way around the world ever since. This year, don't be surprised if you see a bunch of adults running around in diapers and Trump masks.
Pepe Frog Trump Memes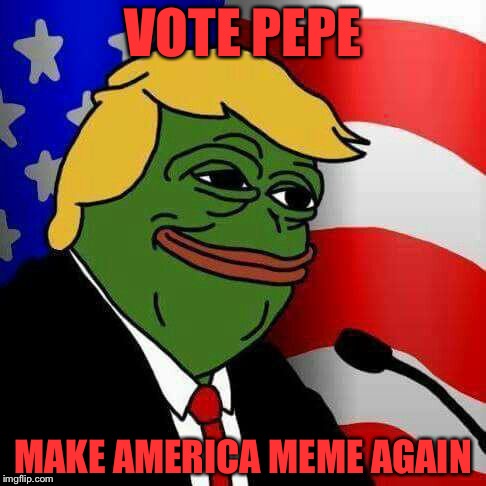 Pepe The Frog would make a great president and an even greater costume idea. Transform yourself into your favorite political meme with a rubber Pepe mask and some cardboard. It may sound like a unique idea, but likely you'll see them all over the place this Halloween. Memes are this year's Wonder Woman.
Trump Tweets
If you aren't into Pepe The Frog memes, you might find some inspiration in one of Donald Trump's hundreds of moronic tweets. A quick print job at Staples and some Insta-Bake Bronzer is all you'll need to get this year's Halloween costume ready! The best part is, Trump will probably be flattered by these kinds of costumes. He'd think his tweets were being turned into some kind of art exhibit because we all know his IQ is one of the highest!
Trump's Tiny Junk
If you haven't heard, Stormy Daniels compared Trump's junk to one of the most adorable Super Mario characters in existence. Toad might be your go-to player choice for Mario Kart, but likely your image of the little guy is going to be ruined this Halloween season. I predict that people will be running around in giant penis costumes complete with blond pubes and Toad's infamous mushroom hat.
A Member Of Trump's Space Force
If you're looking for a fun DIY costume concept, a member of Trump's Space Force leaves you with unlimited possibilities. You can take inspiration from Captain America, or go with more of a Star Wars charm. When it's something as ridiculous as a space army, the sky's the limit!
Handmaid's Tale
There's nothing the men running our country hate more than women, which they've proven time and time again. Since we're just a hop and skip away from the Handmaids Tale becoming our reality, women have been throwing on the red cloak in an act of resistance. Wear it to marches. Wear it to conventions. Wear it on Halloween!