If you're looking for something to put on your stoop other than the traditional jack-o-lantern this time around, consider going political. What could possibly be scarier than a pumpkin portraying Donald Trump's ugly mug? Halloween Trumpkins are the latest fad and have been haunting the front yards of homes since Trump decided to run for president. Here are a few Halloween Trumpkins that can help to inspire your next pumpkin carving adventure!
1. MAGA Trumpkin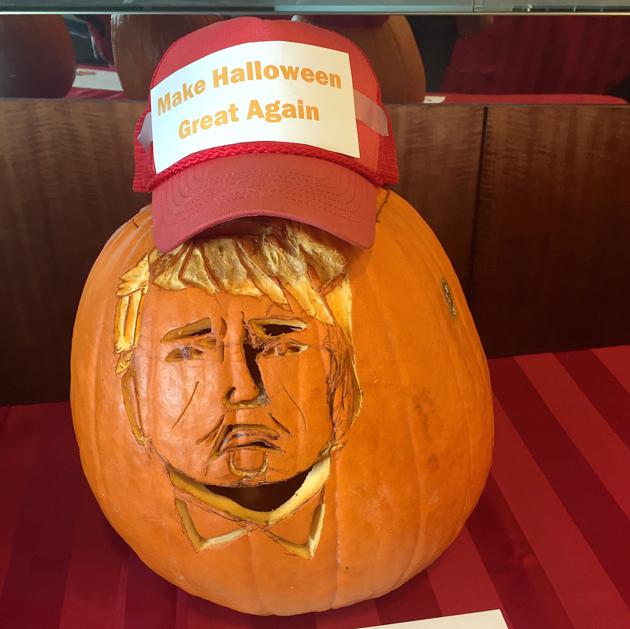 Check out the hat on this Halloween Trumpkin! While this jack-o-lantern isn't exactly a masterpiece, you have to check out how the hair is carved. It shows that you don't need to carve all the way through in order to get the concept of your design down. Also, note how it looks like the image was originally drawn on the pumpkin's surface. If you can't find a Trumpkin template, you can do this with any picture of our doofus president you find on the computer.
2. Lumpy Trumpkin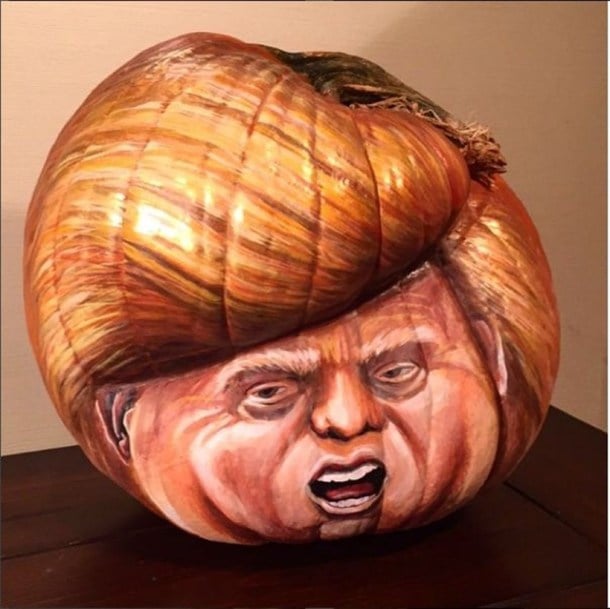 This deformed Trumpkin was certainly put to good use. Why waste one of your perfectly round pumpkins with Trump's ugly mug? This Trumpkin is all hair, and it's just epic. It also demonstrates an alternative for those who aren't handy with carving tools. Paint can be far easier to use, and you get to skip the nasty process of gutting the pumpkin. It's a win-win!
3. Word Vomit Trumpkin
A vomiting jack-o-lantern is classic, as it finally gives you something to do with all of the gutted insides of your pumpkin. Combine that with your hatred for President Trump, and you've got a modern Trumpkin with a classic twist. Besides, we all know that everything Trump says is word vomit anyway.
4. Hairy Trumpkin
When it comes to making a Trumpkin, we all know that the hair is the most important aspect of the design. Either the person behind this hilarious Trump pumpkin cuts hair for a living, or that's a well-placed wig. Using real hair will certainly help to give your masterpiece that extra zing it needs to piss off your Republican neighbors. The fact that this Trumpkin was also made using the most grotesque pumpkin in existence certainly doesn't hurt.
5. Angry Trumpkin
We all recognize this face and can appreciate the work that went into creating this Trumpkin. With minimal carving, the creators were still able to capture the anger in Trump's face, his numerous chins, and eye wrinkles. Another unique use for the excess pumpkin innards, this one throws it on top in the shape of his hair. What's even better is that little by little the birds and squirrels will eat it, replicating his hair loss over the years!
6. Wig Wearing Trumpkin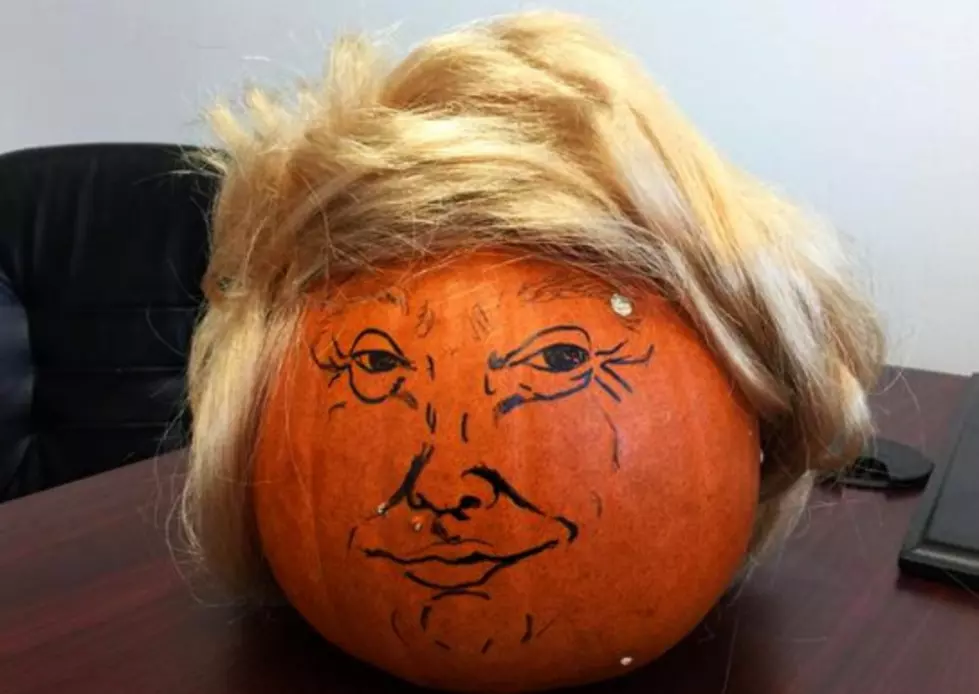 Pairing the simplicity of using a Sharpie marker to draw Trump's face and this hilarious wig proves that practically anyone can make their own Trumpkin. No mess and no fuss. It's the lazy man's path to creating a masterpiece. The random white splotches of deformity add a unique attribute that could be mistaken for warts or zits. Both which add to the humor of this Trumpkin.
7. Cartoonish Trumpkin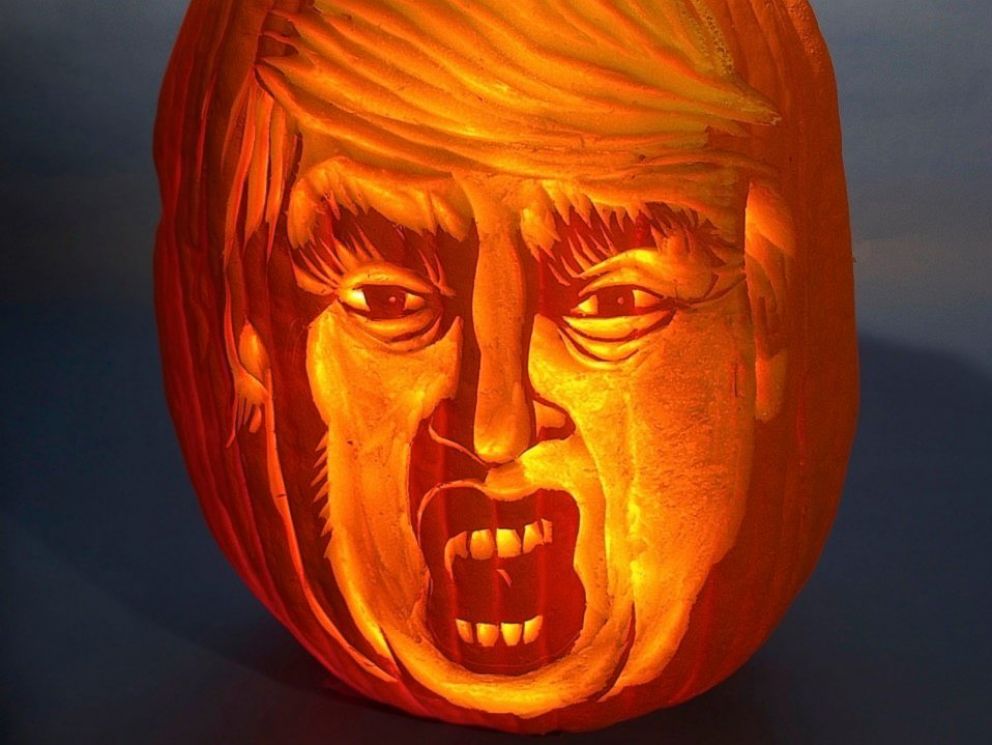 Even though Trump already holds a number of cartoonish features, artists have turned him into hilarious works of art dozens of times since he has entered the White House. This one here kind of resembles the presidential figure in Showtime's "Our Cartoon President" but it really could be inspired by a number of comics. A Trumpkin that is certainly not for beginners, you'll notice that there isn't a single piece of pumpkin that has been cut out. The design has all been carved into the surface, likely by a true artist.
8. Bird's Nest Trumpkin
When you don't have a wig or extra hair handy, coming up with ideas for your Trumpkin's hairdo can be challenging. Without gutting your pumpkin, you're left without any of its guts to mess around with, but the fall season tends to bring in an abundance of hay. Whether you pick some off of one of your autumn decorations or grab a handful when you're enjoying your annual trip to the farm for hayrides and apple cider, gluing some hay on top of your Trumpkin can do the trick.
9. Another Wiggy Trumpkin
What else are you going to do with those old wigs that have become so knotted up, you couldn't possibly wear them? Throw them on top of your Trumpkin and bring your painted pumpkin to life! Since Trump's skin is "naturally" orange, save some paint and leave his face as is. The orange pumpkin will help to make it appear more realistic.
10. Heyday Trumpkin
This Trumpkin shows off how the pumpkin's natural coloring can bring out Trump's true skin color. It's also another example of how hay can be used to represent his hair. That's pretty much what it is in real life anyway.
11. Mullet Trumpkin
Again, Trump is depicted here with pale skin. He works so hard on his spray tan, the very least we can do is include it when we're making fun of him! The mullet wig more than makes up for it though. This might be my favorite Trumpkin on the list!
12. AMERICA Trumpkin
If you're just a beginner at the whole pumpkin carving game, then this might offer the best inspiration for your Trumpkin. With just a few pieces cut out and the right hair, you can easily depict Trump during your next pumpkin carving adventure. See, it's all about the hair. As long as you get the hair right, the rest will be a breeze. The fact that the creator of this Trumpkin added doll arms and an American flag is just brilliant.
13. Banana Trumpkin
Don't let a little thing like not having an old wig or some hay laying around stop you from creating your very own Trumpkin! Use anything that's obnoxious and yellow, and you'll get the point across. The creator of this Trumpkin used a bunch of bananas, and it's not only epic but something you can eat later. Yes, it's ridiculous, but that's what makes it so great.
Making Halloween great again one Trumpkin at a time!