According to Trump, he's the greatest thing to ever happen to the United States. Democrats only want to impeach him because he has achieved a level of success so great that they feel threatened. Not because he's a criminal, or a sexist pig, or a complete jackass. Trump thinks that we only want him gone because he's so successful. Literally, this is what he tweeted last week:
"They only want to impeach me because they know they can't win in 2020, too much success! … How do you impeach a president who has won perhaps the greatest election of all time, done nothing wrong (no Collusion with Russia, it was the Dems that Colluded), had the most successful first two years of any president, and is the most popular Republican in party history 93%?"
The 93% approval rating he mentioned has already been disproved, but that's neither here nor there. Just in case you're rusty on what the Constitution says about impeachments, those who commit "treason, bribery, or other high crimes and misdemeanors" qualify. While there are no specifications as to exactly what actions are fit for impeachment, we're sure we can find a few that fall into the Constitution's vague description. Trump wants to know how we could impeach such a fantastic president, so we've provided an answer for him.
Trump Does Everything He Can To Interfere With Russian Investigation
When the FBI connected Russia's interference in the 2016 presidential election to Trump's campaign advisor, Michael Flynn, the freshly elected president went into damage control mode. He directly asked FBI Director James Comey to stop investigating, and when he refused Trump just up and fired him. Trump also fired Flynn taking to Twitter to claim he did it because Flynn lied to the FBI about the Russian investigation, but we all know it was because the guy dared to tell the truth. The president was then stupid enough to admit in a televised interview that he fired Comey over the "Russia thing" making it clear that he made multiple attempts to interfere with the Russia investigation. This, ladies and gents, is called obstruction of justice, which is a crime and qualifies Trump for impeachment.
Trump's Businesses Often Benefit From His Presidency
The Foreign Emoluments Clause of the Constitution prohibits any United States president from personally benefiting from any foreign government or official while in office, but it seems that Trump neglected to see this not-so-minor factoid. Trump has not only remained in control of his family business, but those businesses have benefited greatly. Keep in mind, Trump's hotels are built all over the world and require approval from foreign officials in order to be built which are likely much easier now that he has personal relationships with their leaders. Just a few examples of how he has already violated this part of the Constitution are the nearly 50 trademarks the Chinese government has approved of Trump's businesses and the Trump Tower currently in the works in Russia. Not to mention that every time Trump spends time at his resort in Palm Beach Florida, his business is profiting off of taxpayer dollars. Sounds impeachment-worthy to me!
Trump Often Says Things That Are Against Equal Protection Laws
Whether it's on Twitter, in an interview, or during a press conference, Trump rarely manages to get through a sentence without incriminating himself. Some of the president's basic duties according to the Constitution include preventing violence and offering citizens equal protection. Instead of doing this, however, Trump has pushed for violence and impaired equal protection again and again. He has shared anti-Muslim content on his social media pages, protected the group of Nazis who rioted in Charlottesville and ended up murdering a protester and encourage the police to use violence against those under arrest, all which speak against his obligations according to the Constitution and offers reason for impeachment.
Trump Regularly Undermines The Press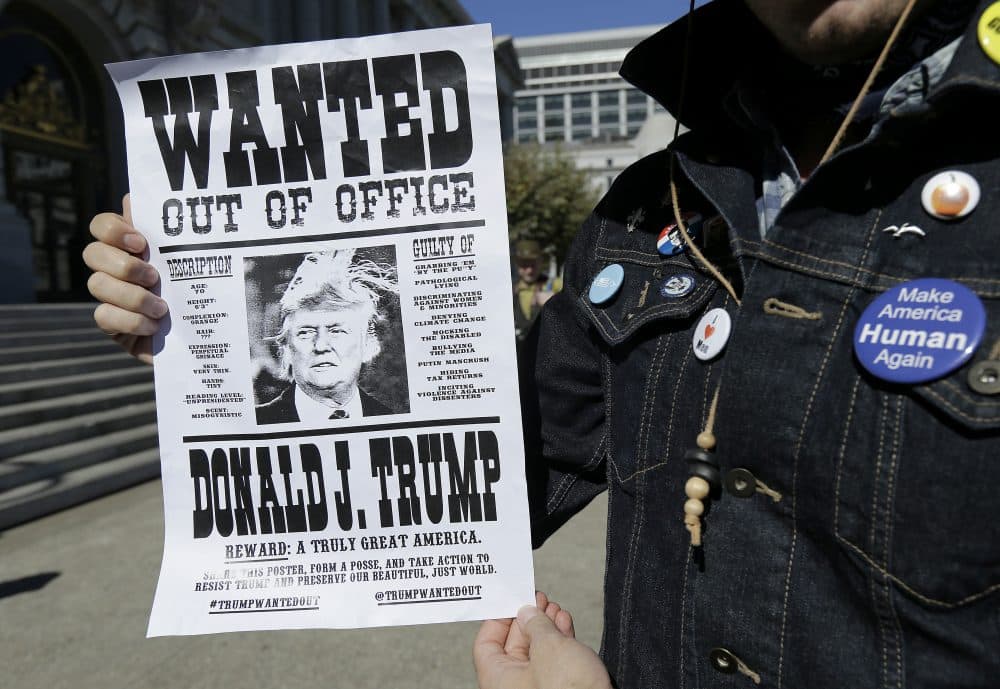 While it might not seem like such a big deal when Trump mocks members of the press or calls entire media outlets "fake news" but it's actually a major threat to American democracy. He has endangered the freedom of the press with his outrageous claims that journalists are the enemy of the people and has discredited some of our most prominent reporters. Coincidentally, Trump only undermines those who don't agree with his policies. If you don't see the problem with this, then close your eyes for a moment and imagine a world where Trump dictates what the media can and can not publish. Picture your social media news feeds, your newspapers, your favorite news channels. Get it now?
Trump Paid His Former Lovers Hush Money
You've heard about it again and again, but the fact is that Trump's decision to pay off both Stormy Daniels and Karen McDougal to keep them quiet about his affairs were both felonies. Since Trump knew that if reports surfaced about him cheating on his wife that it would hurt his chance to win the election. While Trump didn't hand off the cash directly, he had the publisher of the National Enquirer buy their stories and have them sign a non-disclosure agreement. Trump's former lawyer, Michael Cohen, actually handed off the money which is now considered an "excessive campaign contribution" that was intended to influence the election. Cohen was sentenced to three years in prison for these actions, so it's safe to say that Trump at the very least deserves to be impeached. Felonies are high crimes, right?
These are just a few of the potential ways in which we can go about impeaching Trump. This doesn't include his conspiring with others to dig up dirt on Hillary Clinton, most of who he was related to, and colluding with Russia, or his abuse of the pardon and executive branch powers, the inhumane conditions his zero-tolerance policy puts immigrants in, and most recently the embezzlement and bribery accusations surrounding his Inauguration. Then, of course, there's the fact that we all know more evidence will be revealed against Trump as the investigation continues. Can we just impeach the guy already?