A merciless scene from Terminator came to life at a club when one man suddenly took on seven men — with an outcome that would have Schwarzenegger referring him to Sly for the next Expendables.
Jason Statham, Jet Li, Randy Couture, nor Dolph Lundgren have anything on a man that recently cleared a Russia nightclub dancefloor—literally.
CCTV footage (seen below) from a club in Russia has baffled the internet after a lone man knocked out two males that bumped into him, and beat up an additional five afterwards.
https://www.youtube.com/watch?v=BpMnA_1-Szk
The incident took place in the early hours of Friday morning in nightclub Studio Private Place in the south of Moscow, on Karl Marx St.
As a result of the assault, two of the men seen in the footage ended up requiring treatment in the hospital for serious injuries.
It's been said a 23-year-old man is reported to have fractured his skull, while another 20-year-old man is reported to be receiving treatment for injuries to his head and face.
The video sets off with a outwardly innocent moment when two guys bump into each other on a fairly packed dance floor.
The man later dubbed 'Terminator' swiftly turns around and punches one of the guys, seen dancing with a group of buddies, in the face.
When a smaller man interposes and shoved the 'Terminator', that's when the fight really pops off — with 'Terminator' subsequently punching six other men, knocking the majority of them out.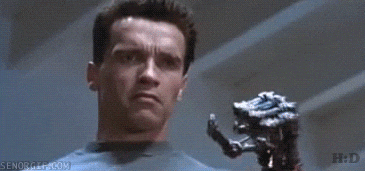 In a melodramatic ending, the man simply turns around and exits the club.
As the viral clip picks up steam, viewers have commented on how the 'Terminator' man himself is struck, but just gets back up in a peculiarly unaffected fashion — emphatically mirroring scenes from the 1984 James Cameron film.
YOU MIGHT ALSO LIKE:
Arnold Schwarzenegger: Come With Me If You Want To Lift! [Video]