Education Secretary Betsy DeVos is hardly known for being a wordsmith. More often than not, when she speaks she ends up putting her foot in her mouth. DeVos seems to have learned her lesson to some extent as she now answers most questions by saying, "I'll have to check on that" or "I'm not aware of that." Anything to avoid having another controversial statement in the headlines. These Betsy DeVos quotes are so illogical (and just plain wrong) that they'll seriously piss you off.
1. On Preventing School Shootings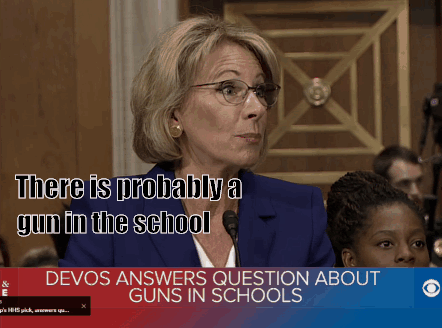 School shootings are out of control in this country, but there has yet to be a solution put in place. Remember when Republicans decided it would be a good idea to have armed security guards on campuses? Well, DeVos seemed to think this was common practice when she said:
I will refer back to Sen. Enzi and the school he is talking about in Wyoming. I think probably there, I would imagine there is probably a gun in a school to protect from potential grizzlies.
Umm, not exactly. The school had fences to keep the bears out, but they definitely don't walk around armed with the kind of weapon that would be needed to take down a grizzly.
2. On Larger Class Sizes
In a pathetic attempt to defend a 10 percent cut to federal education spending budget, DeVos started spewing nonsensical and just plain wrong facts about what makes for effective learning. She actually tried to argue that having fewer teachers in schools and larger class sizes would improve our public schools saying:
Students may be better served by being in larger classes if by hiring fewer teachers, a district or state can better compensate those who have demonstrated high ability and outstanding results.
Obviously, there are no reports to back any of this up. On the contrary, research has found that smaller class sizes and more one-on-one time with an instructor increases learning.
3. On Cutting Student Loan Aid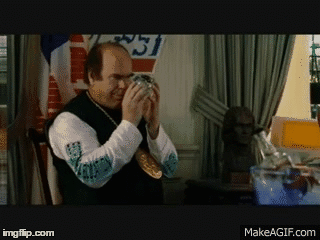 If you're a millennial, then you know just how overwhelming student loans are. Not only did you go to college after tuition costs jumped to astronomical amounts, but lenders decided to take advantage of this by offering impossible to pay loans to a bunch of teenagers. Student loan forgiveness programs are garbage, leaving most of us drowning in debt, but that wasn't good enough for DeVos. She decided cutting student loan aid was the best way to lend us a hand. DeVos explained her decision by saying:
While students should have protections from predatory practices, schools and taxpayers should also be treated fairly as well. Under the previous rules, all one had to do was raise his or her hands to be entitled to so-called free money.
Free money? I wouldn't call being lied to about loan programs, harassed for payments at home and work, and astronomical interest rates free. Also, it's next to impossible to receive student loan forgiveness and requires much more than raising a hand to attempt. As the Secretary of Education, DeVos should really be aware of these things. However, an ethics report revealed that DeVos has ties to a student loan debt collection firm that have led many people to question her judgment.
4. On Privatizing Public Schools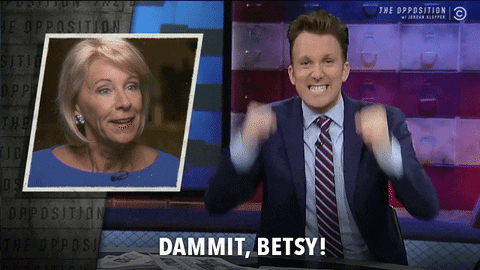 DeVos' confirmation hearing was a disaster from start to finish. She refused to answer most of the questions directed at her and gave little indication of what her plans were for our country's education system. Even more alarming, she seemed to be clueless when asked about several basic education laws. Her "school choice" program has raised many concerns as it resembles the voucher programs used to reduce private school tuition for some students. When asked by Sen. Patty Murray if she could confirm that she would not work towards privatizing public schools or taking funds from public education, Devos responded by saying:

I look forward, if confirmed, to working with you to talk about how we address the needs of all parents and all students. We acknowledge today that not all schools are working for the students that are assigned to them. I'm hopeful that we can work together to find common ground and ways that we can solve those issues and empower parents to make choices on behalf of their children that are right for them.
See how she spoke in circles and never answered Murray's question? DeVos seems to be pretty good at doing that. Perhaps the president taught her how. Murray responded to DeVos' lack of answer by saying, "I take that as not being willing to commit to not privatizing public schools or cutting money from education." DeVos replied by saying, "I guess I wouldn't characterize it in that way." What a waste of time!
5. On Equal Treatment In Schools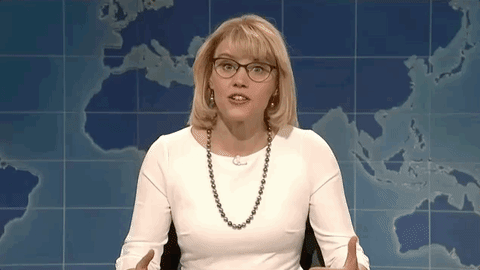 During Obama's presidency, a guide was created to help teachers and school officials to identify and avoid discriminatory discipline in schools. This was largely designed to educate schools on why it's inappropriate to call the police on a black student for minor disciplinary issues when white students are sent to the principal or given detention. Of course, since Obama's name is on it, Trump's administration is going to try their best to get rid of it. When asked about the plans for this regulation in a "60 Minutes" interview she said:
We are studying that rule. We need to ensure that all students have an opportunity to learn in a safe and nurturing environment. And all students means all students … Arguably, all of these issues or all of this issue comes down to individual kids. And it does come down to individual kids. And–often comes down to– I am committed to making sure that students have the opportunity to learn in an environment that is conducive to their learning.
DeVos sounds like a broken record. Stating that she will be "studying" a rule seems to be her go-to answer whenever she's asked about a regulation that's already in place.
6. On Sexual Assault On College Campuses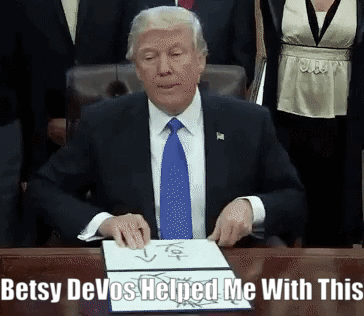 Obama created sexual assault regulations (Title IX) that would hold colleges and universities responsible for preventing and addressing sexual assault and harassment cases on campus. DeVos changed the guidelines so that schools can require stronger evidence of assault from accusers. It also changed the definition of sexual harassment to "unwelcome conduct on the basis of sex that is so severe, pervasive and objectively offensive that it denies a person access to the school's education program or activity." Ummm, what? When asked about these changes in the same "60 Minutes" interview DeVos said:

Well, one sexual assault is one too many, and one falsely accused individual is one too many.

The number of false sexual assault accusations make up such a small percentage that it shouldn't even be an issue. Thank for pushing back women's rights several decades though!