Congress members have it rough. They make $174K or more a year, but can't seem to manage the cost of an apartment in Washington, DC to stay in while they're in town. They do, of course, have mortgages to pay back in their home states, and having one of the countries highest cost of living averages, Washington DC certainly isn't cheap. The more intelligent members of Congress have managed to figure out ways to work around this, such as renting homes in nearby Virginia where the cost of living is more manageable. Others have shared apartments with other Congress members to help reduce the cost of rent or have invested in a second house. Then there are some who somehow have managed to turn Capitol Hill into a college dorm, and taxpayers are understandably livid. These are our countries lawmakers, but they can't seem to get through a day without an afternoon nap. Here's a look at the dorm-life of our sleepy Congress members.
Their Offices Morph Into Bedrooms
Each member of Congress has an office with a reception area, a small workspace for their staff, and their personal office where they keep their desk and entertain guests. Their offices now serve as their dorm rooms where they keep a small cot or pull out couch next to their desks. Some are going the extra mile to get that college dorm room experience and are using inflatable mattresses. In spite of cutting their commutes down to nothing, they still manage to find the time to take naps in the common room.
Senate Chambers Have Become Their Common Room
The Senate Chambers at Capitol Hill that were once used to debate important laws have been turned into the dormitory common room. Here the members of Congress are able to nap, catch up on emails, read a book, and overall relax. Perhaps they'll even whip out a sandwich to munch on and a board game to keep them and their fellow members of Congress entertained. It's the ideal spot for them to meet up before they head out to the bars for a long night out.
They're Forced To Use Microwaves And Hot Plates
Without a kitchen available for their use, Congress members are stuck using toaster ovens, microwaves, and those hot plates we all try to forget about once we graduate to off-campus living. If they can't manage to squeeze a minifridge into their new dorm room, then their meals are further limited. Dorm life on Capitol Hill doesn't include a meal plan, so members are stuck with the basics like Roman Noodles, peanut butter and jelly sandwiches, and Hot Pockets. Even a bowl of cereal requires access to a refrigerator, but that might be simple enough to find near the coffee pots.
Shared Bathrooms
A kitchen isn't the only perk they must live without on Capitol Hill. Like most dormitories, Congress members who choose to stay overnight also use the shared bathrooms on their floor. Here they can use the restroom and the sinks to wash up, but they lose most of their privacy. At least they don't have to worry about stocking up on toilet paper or paper towels anymore. If they want to get in a real shower though, then they'll have to join the gym in the building and pay their annual fees.
Gym Showers
While taking showers at the gym after a workout might be a fantastic feeling, having to use that shower on a regular basis has got to gross some of these Congress members out. At least by sleeping in the building, they can ensure that they'll be one of the first people down there to use the facilities, slightly decreasing the ick factor. Unfortunately, since these dormitories are widely discouraged, they'll have to actually use the gym in order to keep their living situation on the down low. Perhaps that's why they're so tired and need to nap in the common room later on in the day. At least they're staying fit and healthy. There's also a decent mirror in the locker rooms, so the women have a place to do their hair and makeup.
Minimal Closet Space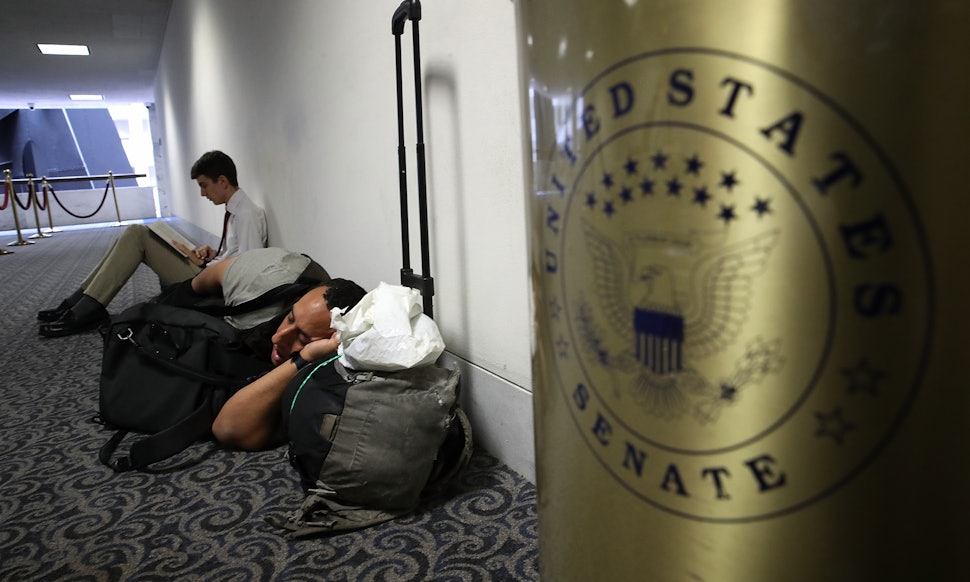 Similar to college dorm rooms, Congress members have limited closet space to keep their belongings. This means that their clothes often find themselves being hung in filing cabinets or folded in desk drawers. An iron is essential in the Capitol Hill dorm rooms, as there's just no way to prevent clothes from wrinkling. Especially for those who travel from cities far away and have to shove each week's suit and tie into their carry-on bag. Not exactly the formula for that freshly pressed look we expect our Congress members to have.
An Upgrade From Other College Dorms
The dorm life on Capitol Hill certainly has its perks that other college dorms likely don't have. For one, they don't have to pay for anything. Not only are they living rent-free, but all of their utilities are included. Congress members who are taking advantage of their office dorm rooms get electricity, wifi, water, a phone line and more at no cost to them. They also save major cash on toiletries and other things that can be found laying around the office like toilet paper, pens, staplers, and anything else they can swipe. Each dorm room also receives janitorial services on a daily basis, so our fine men and women of our Congress don't have to waste their precious time cleaning up after themselves. They can just take a nap instead. If you're concerned about how they get their laundry done, well don't be, as the Capitol Hill gym facility takes care of that for them. They may only wash their gym clothes, but they can probably squeeze in a few undershirts and pajamas in there without anyone noticing. Their suits likely need to be dry cleaned anyway and shouldn't be put in the hands of some teenage part-time gym employee.
These Congress members are certainly living the life in their dorm rooms these days. This is what has taxpayers so pissed off, as our tax dollars are obviously being used improperly. We don't mind paying for your toilet paper while you're on the job, but after that you're on your own!