With Christmas just days away, you're likely getting sick of all the cookie cutter holiday cards you're getting in the mail. If there isn't a photo on it of the perfect couple holding their perfect kids and their perfect dog, then it's hardly worth sending these days. For once, it would be nice to get a holiday card in the mail that was an honest representation of the year. Throw in that mugshot from your birthday weekend, some pictures of the family playing beer pong at your Fourth of July barbeque, and one of your kids taking their very first dump on the big-kid toilet. Now that's something worth keeping on the fridge for a while!
You don't have to be photogenic to send an honest Christmas card though. Get political with one of these hilarious Trump-themed holiday cards. Send them to your friends who can take a joke or stick them anonymously in the mailboxes of all of your neighbors who support Trump. They're funny enough that even the most conservative people on your Christmas list might get a chuckle out of them.
1. Trump Fails The Truth Meter
When it comes to Santa's naughty list, it's safe to say that Trump is on there along with everyone who donated money to the GoFundMe campaign organized to raise money to build a border wall. If you know anyone who labels everything they disagree with "fake news" or "alternative facts," then this might be the perfect political Christmas card for them this year. It's the best way to subtly call them out for their bullshit.
2. Let Them Eat Fruitcake
Let your friends and family know how you really feel about them with this Christmas card designed just for the peasants. The Queen of England might despise Trump, but there's no doubt that our president considers himself royalty. He's really really rich, haven't you heard? The best part about this card is the inside which reads, "Let them eat fruitcake!"
3. Season's Tweetings
Have you ever tried to picture Trump while he's tweeting one of his ridiculous rants? Few people probably picture him sitting on the toilet, but let's get real. Considering how often the man is on Twitter, chances are more than a few of them were written on the bowl. It's the perfect political card for your Trump-loving colleagues who eat up every moronic word that comes out of the president's mouth.
4. Conservative Uncle Gift Guide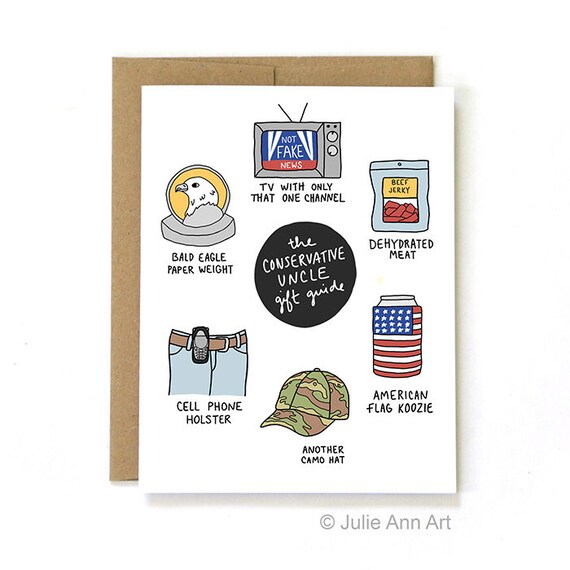 Have a conservative uncle? Let him know exactly why you're buying him another camouflage hat or American flag koozie for Christmas this year with this political card. Aside, of course, from the fact that you can't afford the things he really wants like a new handgun or a gold-plated MAGA bible.
5. Mexico Will Pay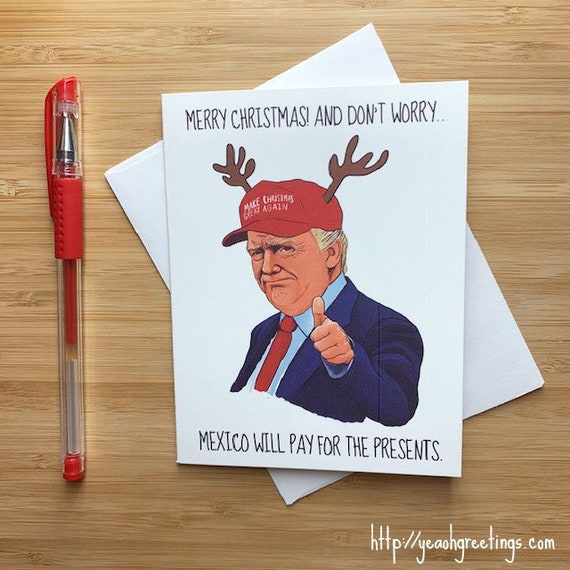 Let's just have Mexico pay for everything. The wall, our presents, and how about our next three all-inclusive resort vacations? Might as well just keep adding it to their bill. This hilarious political Christmas card is perfect for the people in your life who are convinced that Mexico will be paying for Trump's border wall. Tell them that their gift is on the way, as soon as Mexico approves funding.
A Special Time Of The Year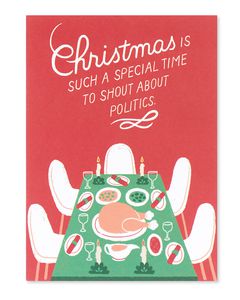 If your family can't seem to get through a meal together without a heated political debate, then this card will end up being handy. Stick it in with a particularly fiesty family memeber's gift or annonymously add it to your grab bag or secret santa present. Hopefully it will break the tension rather than start a whole new political debate.