The Super Bowl always means big money for celebrities who appear in commercials, and the average person could probably retire with the amount of money halftime performers get. That isn't stopping some of them from turning down these high-paying gigs in support of Colin Kaepernick. More than just backing up the quarterback, these celebs are also showing that they support NFL players who choose to take a knee during the National Anthem.
The #TakeAKnee movement, for anyone who has been living under a rock, started in 2016 and has been causing a ton of controversy in the NFL. Those who participate are protesting police brutality, especially against people of color, as well as racial injustices in America. Kaepernick hasn't played football professionally since January of 2017 when he left the 49ers and has filed a lawsuit against the NFL for conspiring to keep him from being signed to a different team, ultimately preventing him from playing. A number of celebrities have taken his side regarding the situation, and so far these celebs are refusing Super Bowl appearances in his support.
Rihanna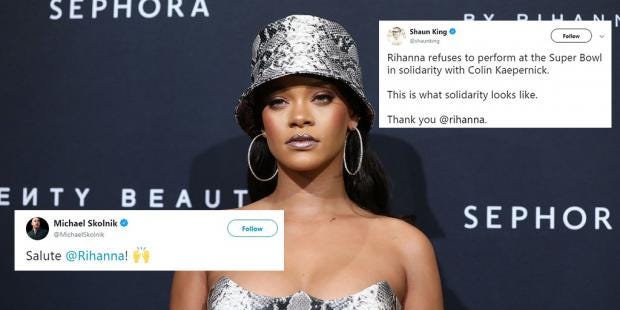 While she hasn't come out and said it herself, word recently spread that Rihanna turned down an opportunity to perform at next year's Super Bowl. A few sources have come forward to confirm that an offer was made and that the legal situation between Kaepernick and the NFL was her reason for declining. The source told ET, "Rihanna was the front-runner for next year's super bowl halftime show. CBS and the NFL reached out to Rihanna first, who after thinking about the offer, decided to pass due to the NFL and the situation regarding players kneeling."
A second source revealed a similar story to PEOPLE saying, "Yes they asked her, and yes, she declined." When asked if her decision had to do with Kaepernick they said, "That's certainly what everyone at the NFL believes. I don't work with Rihanna, so I don't know what her camp told them, but the word within the organization is that's why she said no." Nothing has been announced yet, but it seems that Maroon5 might be taking the stage instead.
Amy Schumer
When it hit the media that Rihanna turned down a halftime performance at the Super Bowl for Kaepernick, Amy Schumer decided to chime in on the conversation. Even though she's hardly a regular in Super Bowl ads, she did do a Bud Light commercial in 2016 with Seth Rogan, which will be both her first and her last. At least for a while. In a lengthy Instagram post, she talked about supporting Rihanna's decision and announced that she wouldn't be making any commercial appearances this year.
She wrote, "I personally told my reps I wouldn't do a Super Bowl commercial this year. I know it must sound like a privilege ass sacrifice but it's all I got. Hitting the NFL with the advertisers is the only way to really hurt them." Schumer also called out Maroon5, asking them to step down and for any other like-minded celebs to steer clear of the NFL this year.
Only time will tell if any other celebrities do the same!