Remember that smug MAGA hat-wearing teen, Nick Sandmann, who made news back in January along with his classmates on a trip to Washington DC? Well, apparently he is suing the Washington Post for $25 million. Sandmann was captured on video with other Kentucky teens laughing and dancing while mocking Indigenous drummer and Omaha Tribe elder, Nathan Phillips. After the video went viral, the public, as well as the media, accused the teenagers of bigotry and disrespect, but that's just a small part of the story.
The Full Story
After further investigation, more video showed that a small group of Hebrew Israelites were also at the "March For Life" Rally calling the group of teenagers "racists", "white crackers", and "incest kids". They also attacked Native American protesters calling them "savages" and were basically being confrontational towards anyone and everyone who walked by. You can see evidence of that in this video:
Around 33:45 you'll see a large group of students, many who are wearing MAGA hats chanting what reports have called a school anthem. A student even takes off his shirt to lead the others in this chant, amplifying the confrontation with the group of Hebrew Israelites. At this point, the kids are being arrogant twats, but isn't that what being a teenager is all about? The Hebrew Israelites were a group of adults, and they were provoking and taunting these kids. At 36:15 you can see Indigenous drummer Nathan Phillips enter the video with other Native American activists who form a group between the teenagers and the Hebrew Israelites in an attempt to make peace. While the students definitely surround the Native Americans, it seems more like a natural gravitation between the two groups. There's no sign of Sandmann from this video angle, but many of the students can be seen disrespectfully doing the tomahawk chop.
There Are Two Sides To Every Story
The same media outlet that is being sued also provided an outlet for both Phillips and Sandmann to tell their sides of the story. Phillips' side is that he was defusing the tension between the teens and Hebrew Israelites with is drum when he was surrounded.
No matter which way we went, we would have to go through that mob. So, since I was moving forward I continued to move forward, and I took that step and they started moving back. They didn't break their circle, but they started moving back, so I took another step and they moved back some more. And I took another step and they moved back. And then they started breaking apart, and I said, 'Okay I'm gonna make my way outta here. I'm just gonna go up there to the top of the Capitol or to the Lincoln Memorial. I'm gonna finish my prayer up there.'

When that young man blocked my retreat, you know, decided to stand in front of me when I was trying to make my way out of there, he put himself in front of me. So I stopped and I thought, 'Okay, I'm gonna take another step,' but he wouldn't move. I took another step, he wouldn't move.
In another video, Phillips is visibly upset and mentions that people were saying "build that wall," but it's not clear exactly who he's referring to. See for yourself:
After Phillips' side of the story reached the media, Sandmann released a statement to get his side of the incident out there. The statement mentions all of the vulgarities being shouted at them by the Hebrew Israelites and also denied that any teens were shouting "build that wall."
At no time did I hear any student chant anything other than the school spirit chants. I did not witness or hear any students chant 'build that wall' or anything hateful or racist at any time. Assertions to the contrary are simply false … I did not see anyone try to block [Phillips'] path. He locked eyed with me and approached me, coming within inches of my face. He played his drum the entire time he was in my face … I did not make any hand gestures or other aggressive moves. To be honest, I was startled and confused as to why [Phillips] had approached me … I believed that by remaining motionless and calm, I was helping to diffuse the situation … I never felt like I was blocking the Native American protestor. He did not make any attempt to go around me. It was clear to me that he had singled me out for a confrontation, although I am not sure why … I never understood why either of the two groups of protestors were engaging with us, or exactly what they were protesting at the Lincoln Memorial. We were simply there to meet a bus, not become central players in a media spectacle.
The statement also goes into the threats he and his family have received due to the media attention surrounding the incident as well as a declaration claiming he's not racist. Now, about the lawsuit.
What The Washington Post Is Accused Of
The lawsuit accuses the Washington Post of a "modern-day form of McCarthyism," which a term created in the '50s that describes the practice of making accusations of revolution or treason without the evidence to back it up. The post is referred to as a bully who led "a mainstream and social media mob of bullies which attacked, vilified, and threatened Nicholas Sandmann, an innocent secondary school child." In fact, the lawsuit uses one form of "bully" or another over 20 times throughout the text.
Why The Post Targeted Sandmann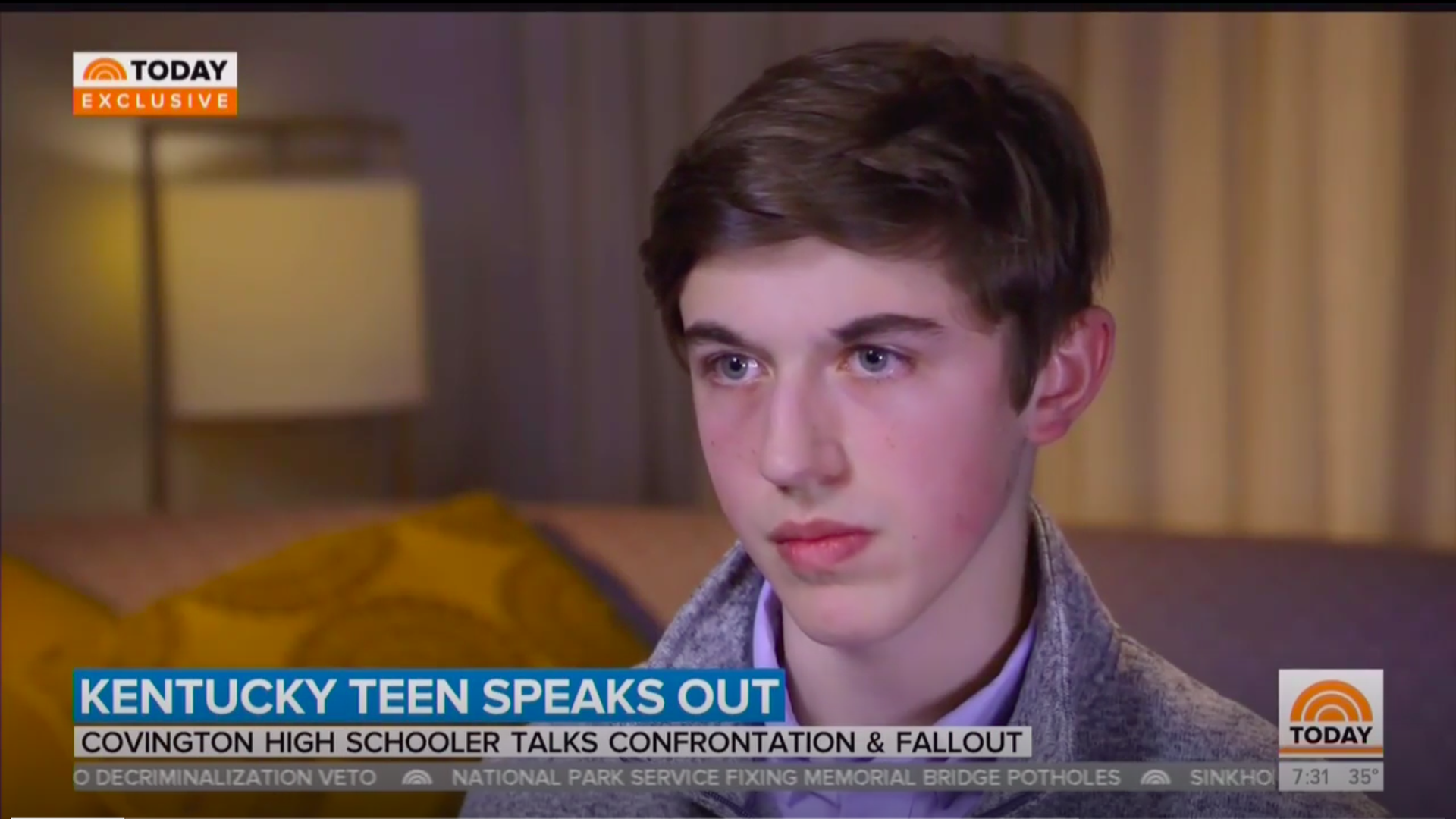 Accourding to the lawsuit, Sandmann was targeted by the Washington Post because "he was the white, Catholic student wearing a red 'Make America Great Again' souvenir cap" and the publication wanted to "advance its well-known and easily documented, biased agenda against President Donald J. Trump."
Lawsuit Claims The Washington Post Lied
In addition to calling the Washington Post bullies, the lawsuit accuses them of "publishing a series of false and defamatory print and online articles" about Sandmann that will cause "permanent damage to his life and reputation."
Why $250 Million
It would seem that the lawyers behind Sandmann's lawsuit decided to go for a low blow when determining the amount to sue the Washington Post for. The lawsuit explains, "In order to fully compensate Nicholas for his damages and to punish, deter, and teach the Post a lesson it will never forget, this action seeks money damages in excess of Two Hundred and Fifty Million Dollars ($250,000,000.00) – the amount Jeff Bezos, the world's richest person, paid in cash for the Post when his company, Nash Holdings, purchased the newspaper in 2013." Apparently, Sandmann's pain and suffering are worth more than the company's overall value.