Unfortunately, blackface is more common than many of us would like to admit. While things were certainly different decades ago when blackface was commonly used in the theatre, times have changed and people need to get with the times. These photos of politicians in blackface are almost as disturbing as some of their responses.
1. Louisiana House of Representatives Candidate Robbie Gattie
When Louisiana House of Representatives candidate Robbie Gattie was exposed for wearing blackface at a church event, he thought his best move would be to respond on Facebook. Not only did Gattie not apologize for dressing like Tiger Woods at a church event but he actually tried to pull the od "I don't see color" routine. He wrote:
15 years ago, my church held a fall festival, where all the volunteers were told to dress as a famous person. Tiger Woods was at the height of his popularity, as a world champion, and that was who I was dressed as. Shortly after this event, I was ordained into the church. As a medical professional, ordained minister and military officer, I live my life seeing only character and I stand by that. I'm sad that my opponents have taken a good night at church and turned it into negative, political mud, but I'm confident the voters of Bossier will not fall for their desperate attacks.
2. South Carolina County Council Candidate Brant Tomlinson
South Carolina county council candidate Brant Tomlinson decided to go to a college Halloween party dressed as a Jamaican bobsledder back in 2008, blackface and all. When he decided to get into politics, he actually went through his Facebook photos and intentionally left this one up on his page. Tomlinson explained that he didn't think there was a problem with the picture saying:
I think that's one thing wrong with politicians: They try to hide everything they do. I never in a million years really thought that would get a negative connotation on it…I was asked recently, did I think it was funny, doing this? And I looked back, and I didn't. We didn't do that to try to make fun of anyone or try to hurt anyone or to put out a negative connotation about how we feel about anyone. We did it strictly for this Halloween party.
Only down south would someone not understand that it's not okay to wear blackface, even if it's as part of a costume that didn't intend to hurt anyone.
3. Florida Secretary of State Mike Ertel
Just two months after Hurricane Katrina destroyed areas of the south that are still recovering from the damage and killed an estimated 1,800 people, Florida Secretary of State Mike Ertel decided it was appropriate to go to a Halloween party dressed as a victim. Unlike the others on this list, Ertel seemed to show remorse for his actions and resigned immediately after the pictures surfaced.
I am submitting my resignation as Florida secretary of state effective immediately. It has been an honor to serve you and the voters of Florida.
Until that moment, Ertel had a successful political run.
4. Illinois State Senate Candidate Hal Patton
Hal Patton, who held public positions for many years as Edwardsville mayor, City Council member, and Madison County Board member, was an Illinois state Senate candidate when a photo of him wearing blackface surfaced. Taken about 10 years ago, the picture is of Patton dressed as a "rapper" for a Halloween party.
There was never any intention for it to be an act of racism or racial commentary. It was a rapper. At the time, Run DMC and others were rappers. That was the look. I hate to say I regret a Halloween costume, in the sense it wasn't meant to make a statement about anything in politics or anything in race relations or anything in that nature.

…I have lots of friends from every race and every country — that is how I've always lived my life. Looking back, it was a bad choice for an outfit. I regret it and apologize to those it offends. I never imagined it would be viewed as a racial image, much less saved by someone for nearly nine years before using it to impugn my character.
Once again, another politician tries to prove their not racist by pointing out that they have black friends. That's not how it works guys!
5. Florida State Representative Anthony Sabatini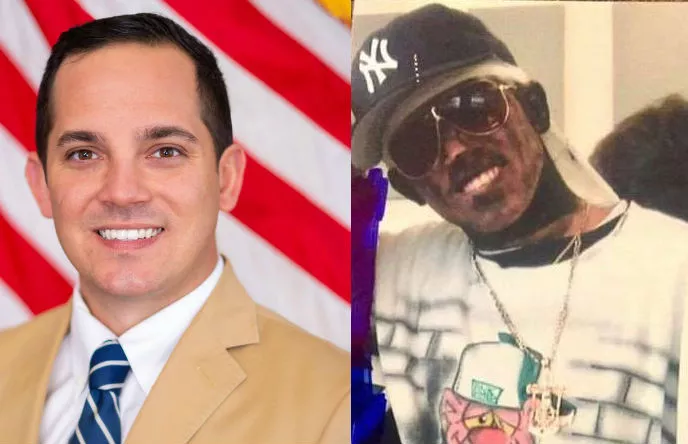 Recently, a photo of Florida state Representative Anthony Sabatini surfaced where he is in blackface. According to Sabatini, he dressed up as his best friend for a high school contest back in 2005. While he apologized, he said that his picture is unlike the other pictures of politicians in blackface because he was only 16. However, the costume was held in 2005, not in 1955, so that excuse is hardly reasonable. Sabatini spoke of the incident saying:
They all know that it's actual garbage. They successfully took a childish, naive thing and twisted it into a creepy narrative. There's not even a piece of racial animosity (to it)…Nobody who understands the full context should possibly expect an apology. Anyone who thinks it's racist is either completely insane or is just looking for clickbait headlines.
Leave it to another privledged white man from the south to feel like he shouldn't have to apologize for wearing blackface.
6. New York State Assemblyman Dov Hikind
New York state Assemblyman Dov Hikind threw on blackface when he dressed as a basketball player for the Jewish holiday Purim. While those in the south blame ignorance for their actions, Hikind blamed his faith. Apparently, it's okay to wear blackface when celebrating Purim. This is some of what he wrote on his blog:
Yes, I wore a costume on Purim and hosted a party. Most of the people who attended also wore costumes. Everywhere that Purim was being celebrated, people wore costumes. It was Purim. People dress up. I am intrigued that anyone who understands Purim—or for that matter understands me—would have a problem with this. This is political correctness to the absurd. There is not a prejudiced bone in my body.
In a press conference, Hikind thought it would be a good idea to point out the face that people dress as all sorts of things on Purim, including "Arabs" and the devil. Regardless of what the history of Purim is, the history of black sufferage in America trumps that and should be taken into consideration when coming up costume ideas for Halloween, Purim, or anything else.