Michael Cohen is now officially an inmate, as he reported to one of the country's cushiest federal prisons in Otisville, New York just last week to kick off his three-year sentence. Of course, he couldn't pass up the opportunity to throw shade at his former employer on his way out of his Manhattan apartment saying:
I hope that when I rejoin my family and friends that the country will be in a place without xenophobia, injustice and lies at the helm of our country. There still remains much to be told. And I look forward to the day that I can share the truth.
I smell a book deal! The only thing better than Michael Cohen starting his prison sentence are these hilarious memes!
Michael Cohen The Movie
Cohen should feel honored to have the Fonz even consider playing him in a movie about this whole debacle. But you do have to admit that the resemblance is certainly uncanny. Perhaps a movie would reveal all of this truth that remains to be untold.
Pointing Fingers
The second Cohen found out he was looking at some serious prison time for his crimes, he offered Trump up on a silver platter. The president may call him a rat, but that's only because he thinks he's some kind of mob boss. Cohen burst his little impenetrable bubble and made it clear that no one is untouchable. Not even the President of the United States.
Tweet That Didn't Age Well
Isn't it just great when tweets don't age well? While Cohen spends the next three years in his fancy little jail cell, Clinton will actually have to freedom to go outside whenever she likes. Who would have thought?
Seems Justified
Cohen may have stuck up for Trump in the beginning, but that was his job. There's no way he enjoyed any of the 12 years he worked for the man. He may be guilty of tax evasion, making false statements to a bank, and campaign finance violations tied to hush money payments made on Trump's behalf, but he was just doing what his boss told him to. Don't you do whatever your boss asks of you and lie for them without thinking about whether or not it's legal? It's the American way!
Trump Should Have Hire Hillary
Trump and his MAGA minions have been adamant about putting Hillary Clinton behind bars since day one, and as more and more of the president's employees get their day in court, the solution to their problem seems rather simple. The president should just put their differences aside and hire Clinton. She'll end up in prison in no time!
Flipping On Trump
Flipping on Trump to get a reduced prison sentence may have shocked the hell out of the president, but it was actually kind of predictable. Hoes ain't loyal, am I right?
Trump's Reaction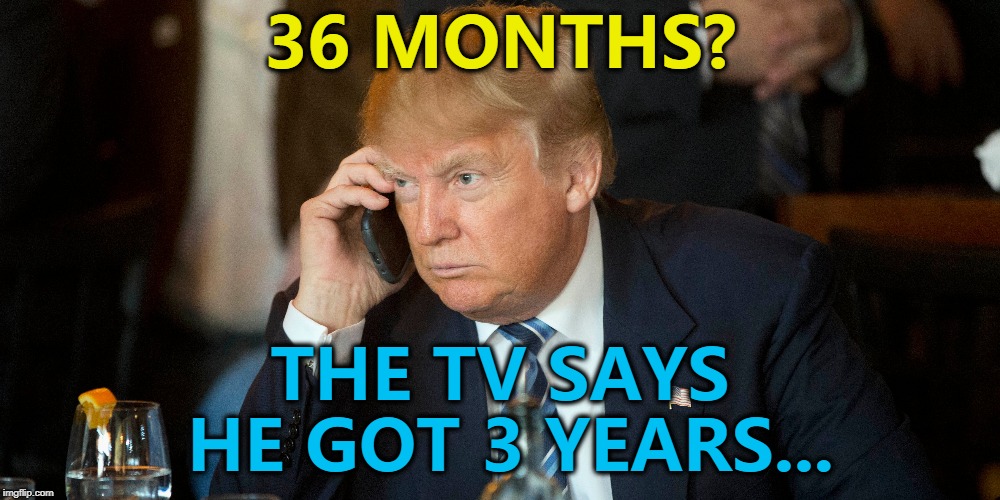 Okay, so this meme kind of exaggerates how stupid Trump is. He may know that 36 months and 3 years are the same things, but he definitely doesn't know when to shut up. Trump has been yammering on and on about his former lawyer on Twitter since Cohen rated him out. It was just a few months ago that Trump was calling him "a fine person with a wonderful family" and boasting about his respect for the man. How quickly things have changed!
Obama Created Festivus To Destroy Christmas
So, obviously this screenshot has been altered but that doesn't make it any less hilarious. Fox News may be a joke compared to more reliable news stations, but then again so is our president it kind of works. At least Trump was mature enough to promote Cohen's services to his followers when he tweeted:
If anyone is looking for a good lawyer, I would strongly suggest that you don't retain the services of Michael Cohen!
Cohen's Own Promotion
While Trump was happy to promote Cohen's services as a "fixer" on Twitter, the man hardly needs it with an ad like this. There are even some testimonials from his former clients to show that he can get anyone out of a tight spot, expect himself it would seem. When you hire Cohen, you're guaranteed discretion, a guarantee on all blackmail, and insurance on all hush money spent.
Your Twenties
Cohen's excuse for his actions is surprisingly similar to how most women would describe their twenties. We acted loyal to a man when we shouldn't have because, as it likely turned out, he wasn't being loyal at all. At least we can be satisfied knowing he's still broke, thirty pounds heavier and struggling to hide a receding hairline.
Liar Liar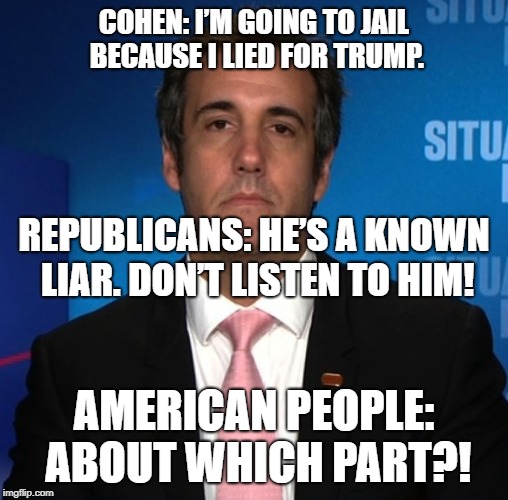 Trump's minions love to call Cohen a liar, but only when it's convenient for them. He wasn't a liar when he stood up for Trump and tried to cover up his affairs, but now that he's finally telling the truth we can't trust him.
Fox News Is Fake News
Fox News draws in more gullible conservatives than a lamp draws in moths. The network's news host, Sean Hannity, heavily criticized the investigation into Cohen numerous times on air. He conveniently failed to mention though that Cohen was his lawyer as well. Obviously, this destroys his credibility on anything he had to say on the matter since he has a personal interest in what the investigation found out. Trump's minions are convinced that Fox News is the only honest news station though, regardless of what the majority of the press is reporting.
Sad Cohen
The drawings of Cohen's face during his sentencing is just too funny not to share. His frown appears to be so heavy that it weighs down the skin, elongating his forehead and chin. It almost looks like he's melting.
America Is Serving Four Years
Cohen may have been sentenced to three years in prison, but we all know he'll get out early. Meanwhile, America is still serving this four-year sentence of Trump's presidency just hoping we manage to survive it all.