Over a billion dollars has been donated to help restore the Notre Dame Cathedral after a fire destroyed its roof not even two weeks ago, leaving the public wondering where the hell all these generous benefactors came from all of a sudden. The people of Flint are still without clean water, people all over the world are living on the streets, major cities are struggling to rebuild after natural disasters took them down, and the pollution in oceans are killing wildlife, but apparently repairing an old roof is more important. Not only that, but all this money was donated to one of the wealthiest organizations in existence: the Catholic church. They don't even need this money! Our priorities are all screwed up and these Notre Dame memes prove it.
Am I A Joke To You
It has become pretty clear how little those who hold the majority of the world's money care about the poor. While, yes, the Notre Dame Cathedral is a historic landmark and it's a shame that there was a fire, but does a church roof really take priority over human lives? Obviously, we live in a world where it does, and that is incredibly disappointing.
Money Better Spent Elsewhere
A lot of the backlash that occurred after so much money was raised to repair the Notre Dame Cathedral had to do with areas where that money could have been better spent. The Great Pacific Garbage Patch, for example, could have been taken care of. As human beings, we made that mess, so aren't we also responsible for cleaning it up? The has now grown to twice the size of Texas and will only become more costly and more difficult to address as time passes.
Why Save The World
Most rich people don't care about the homeless, or the hungry, or even the ocean. They care about themselves and the short period of time they are here on this Earth. If people are living on the streets it's because they deserve to. If the world implodes in a few hundred years it doesn't matter because they'll already be dead.
The Catholic Church Is Poor
Whatever happened to the Catholic church raising money to help struggling families in the community? Or to feed the homeless? Or even to hide pregnant teenagers away until their babies are born and they can manipulate them into giving them up in a closed adoption? At least then they were putting their donations to good use, or lying to us and telling us they were. Spending $1 billion to repair an old church's roof doesn't exactly seem like a priority when you look at the state the world is in right now.
The Catholic Church's Savings Account
The Catholic church is one of the wealthiest organizations in existence, so it's safe to say that the roof of the Notre Dame Cathedral would have been rebuilt even if they received zero donations. Even if the Catholic church was broke or decided not to give them a dime, the Cathedral is a profitable tourist spot. They sell relatively cheap (yet separate) tickets to climb up the famous towers, go into the treasury and explore the crypt. They get between 12 and 14 million visitors per year, and even if just a small percentage of tourists buy these tickets, it's safe to say that they're not exactly going broke.
The Wealthy Asking For Donations
In addition to the money the Cathedral makes off of tickets, they hold five services per day and seven on Sundays. If you've ever been to mass at a Catholic church then you know where I'm going with this. These churches make bank on the donation baskets that they pass around, and that's just the average church that holds a few hundred people.
Millions Of Donations
The Notre Dame Cathedral doesn't need this money to make repairs, and on top of that, some reports are saying that too much money has been raised. An estimate for the work was put at $600 million, at most. When Untec president Pascal Asselin spoke to BBC he said, "The cost is [a minimum of] around €300 million and the high level is around €600 million but we need to have two or three months to have the right cost." Not everyone agrees on these numbers though.
The Rich Are Still Donating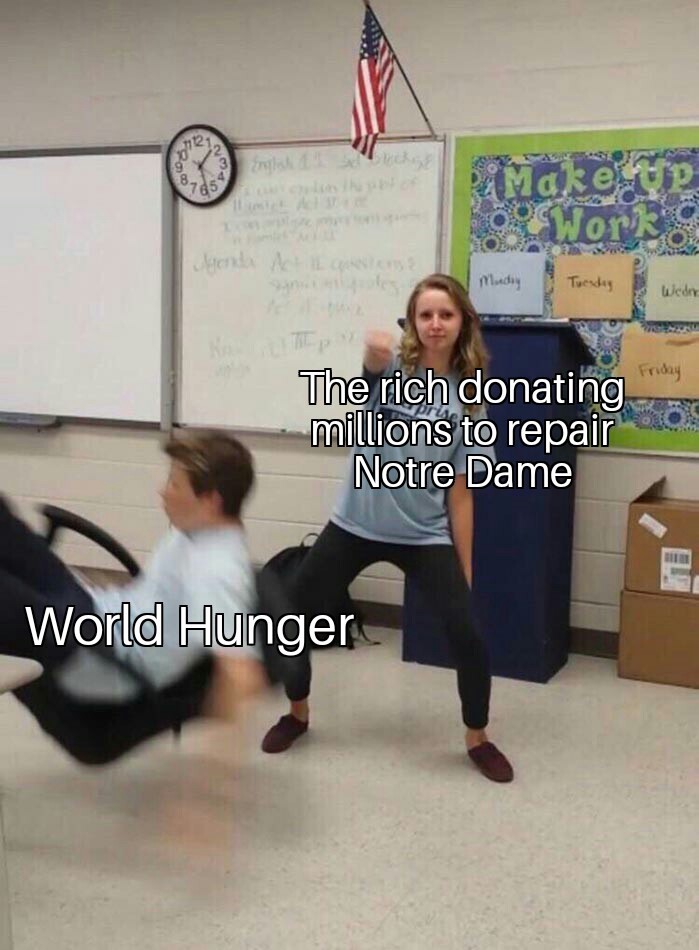 It may be tough to put a dollar amount on a piece of art such as the Notre Dame Cathedral, but those who are saying it will cost more than a billion dollars are just insane. Why spend the money making the repairs when it could be put to better use? Of course, the church is still accepting and asking for donations as they claim not to know for sure how much it will cost to repair the cathedral in the end. Laurence Lévy of the French heritage group Fondation du Patrimoine said to BBC, "We should not tell people to stop donating as we still don't know how much it is going to cost."
Meanwhile Black Churches Get Nothing
If you hadn't heard (which is likely since it received very little coverage in the media), three historically black churches were burned down within a span of ten days in Louisiana. The intentional fires are thought to be a hate crime and a suspect has been arrested. Little money was raised to help rebuild these churches until the fire at Notre Dame Cathedral brought more awareness to incidents. According to NBC News, over $1.8 million has been raised to help them rebuild. Flint, on the other hand, is still shit out of luck.
How To Get The Attention Of The Wealthy
When it comes to getting the one percent to donate some of their billions, the health and wellness of people don't generally seem to pull at their heartstrings. Tell them that an old church that is a piece of our history and culture had a fire and they suddenly don't have a problem opening their wallets. It makes absolutely no sense, but hopefully, the Notre Dame Cathedral will do something significant with the money they have leftover after renovations are complete.