The cast of Jersey Shore might come off as if they don't have a serious bone in their bodies, but they've actually had quite a bit to say about politics over the years. Even as reality stars with one of their own in office, their overall sentiments seem to be disapproval for Trump and his crew. It would seem that when it comes to the president, he should assume support from those who work in the same industry. Here are some thoughts on politics that you'll be shocked came from Pauly D, Snooki, Vinny, and the rest of the cast of the Jersey Shore.
Vinny Schools Trump On Climate Change
Remember when Trump tweeted this gem? The reactions were a mix of anger and hilarity, but you might not have realized that Vinny Guadagnino was among those who responded. After Trump called for more global warming because the winter was proving to be too cold for him, the Keto Guido (who has a degree in Political Science) wrote:
I think climate change is more complex than global warming will make it hotter. It has to do with disruptions of atmospheric conditions, ocean patterns, jet streams and shit like that.
This reality star schooled Trump, but it's pretty obvious that the president doesn't read many of the replies to his tweets. Nor does he read up much on climate change, or science, or anything that uses words bigger than five letters.
Pauly D On NJ Governor
It seems like Pauly was excited to see Chris Christie leave his position as New Jersey Governor, and likely he's not alone in this belief. Christie, who was a major Trump supporter and even friend to the president, was replaced last month by Democrat Phil Murphy. When asked by TMZ if he was excited for Murphy to take office as New Jersey's new governor, Pauly D said he was excited and that "It was time for a change." TMZ also asked the DJ if he thought Murphy would do better than his predecessor to which Pauly responded with, "anybody's better than [Christie]."
Christie Isn't Well-Liked By Vinny Either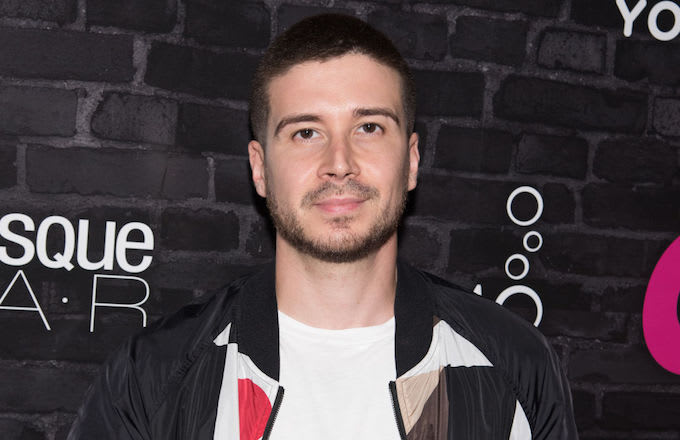 Christie started beef with the cast of the Jersey Shore years ago simply because a few of them are from New York. Perhaps the former New Jersey Governor didn't realize the show wasn't based on where the cast grew up. It's not called "From The Jersey Shore" but that small fact seems to have gone over his head. Christie rudely commented on the cast saying:
They're from New York. Snooki is from Poughkeepsie. The Situation from Staten Island. They parachuted these losers into New Jersey. And they want to make all of you believe that they're in New Jersey. They're not.
First of all, Mike isn't from Staten Island. Second, Christie seems to have forgotten how much the cast of the show helped the area after Hurricane Sandy. They raised over $1 million to help rebuild the boardwalk, which Vinny pointed out on his talk show "The Show With Vinny." The Keto Guido also commented on Christie's dig saying:
I mean I don't think that was something nice to say. And I don't know … when I go for a politician I usually don't like when they use rhetoric like that, it's kind of childish…We really did a lot for Seaside and for the Shore. We really brought that town alive.
Snooki Once Supported Trump
Back in 2012, it seems that Nicole "Snooki" Polizzi was disappointed to learn that Donald Trump wouldn't be running for president that year. In an interview with the Huffington Post, it seemed the reality star didn't find any of the presidential candidates appealing. Nicole said:
I thought Trump was gonna run. But he's not, right? I would endorse him and vote for him.
Several years and a stint on "Celebrity Apprentice" later, Snooki seems to be singing a new tune. To be clear, by the time the Jersey Shore alum was on the show, Trump was no longer hosting as he was focusing on his presidential campaign. In an interview with CNN, Snooki spoke of the president's Twitter habits stemming from a tweet he wrote bashing the show's ratings with Arnold Schwarzenegger hosting it.
[As] our next president, he should worry about what's going on in our country and not on a television show. So, I think it's a little weird. I just hope once he gets into office that he focuses on what he should be focusing on and not reality TV.
Nicole also expresses the fact that she's surprised no one has taken away Trump's Twitter privileges yet, and I think most of us would have to agree with her on that note.
JWOWW On The Last Election
When Jenni "JWoww" Farley learned that the candidates running for president were Hillary Clinton and Donald Trump, she was less than thrilled. In an interview with Page Six, the Jersey Shore cast member said:
Eh … Either way we're screwed. That's my opinion. I'm like, 'What's the lesser of two evils?'
Unfortunately, a few million people from key states felt that Trump was the lesser of two evils, and now we have an ape in the Oval Office. Jenni admits to not always keeping up with politics though, which may have added to the shock of learning who the presidential candidates were.
To be honest, I don't pay attention, so, when I, like, try and get into like politics and all that, I don't even know what's going on, to tell you the truth, because I never thought it would end up to be those two. So now I'm like, 'S–t!'
Vinny Trolls Trump Yet Again
Vinny has got to be a political genius as he always seems to nail it on the head when it comes to trolling Trump. When the president temporarily lost his mind and decided it was appropriate to address the Iranian president on Twitter, threatening him in all capital letters, the Keto Guido had the perfect response:
Vinny truly put into perspective just how insane Trump was for tweeting that. Too bad the president didn't take up fist pumping instead of collusion and fraud.