Just a few weeks ago the film "On The Basis Of Sex" was released, giving us a glimpse into the life of Supreme Court justice Ruth Bader Ginsburg. The movie starts with Ginsburg, played by Felicity Jones, at Harvard Law School and takes us on her journey toward her first gender discrimination case tried before the 10th Circuit Court of Appeals. Written by Ginsburg's nephew Daniel Stiepelman, the script is said to be incredibly accurate aside from a few creative embellishments.
Ginsburg told NPR during a post-screening interview, "This film is part-fact, part-imaginative, but what's wonderful about it is that the imaginative parts fit in with the story so well." It seems that even with Stiepelman's full access to Ginsburg's files at the Library of Congress as well as the woman herself, the film may have gotten a few things wrong.
Height Discrepancies
Armie Hammer, who plays Ginsberg's husband Martin in the film, is significantly taller than the man was in real life. Ginsburg noticed the height discrepancy upon meeting the actor, reportedly saying at the screening, "I commented when I first met Armie that he was rather taller than Marty. And his answer was, 'And you are rather shorter than Felicity Jones.'" It seems like neither of the actors measured up to their real life counter parts.
Ginsburg's Climb To The Top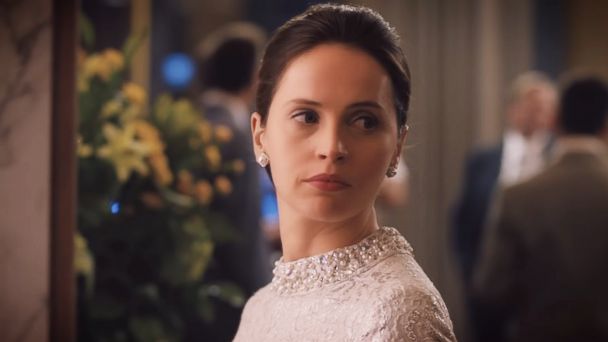 The film depicts Ginsburg getting a job right after graduating from law school, but in reality, she struggled for a few years. After moving to New York to be with Martin and graduating from Columbia, she was rejected by every law firm she sought a job in. Ginsburg wound up spending two years working as a clerk for U.S. District Judge Edmund L. Palmieri to get her foot in the door, and she only got that job after one of her professors recommended her. Rumor is that he refused to recommend any other graduates for the job, but you won't see any of that in the film.
Ginsburg's Time Abroad
Likely due to time constraints, "On The Basis Of Sex" left out an essential part of Ginsburg's life. After her job as a clerk, she joined Columbia Law School's International Procedure Project which sent her abroad to Sweden for a bit. Ginsburg not only had enough time overseas to learn Swedish but she also co-authored a book with Anders Bruzelius called "Civil Procedure in Sweden." It was during her time in Sweden that she started noticing a gender inbalance in America, as Swedish women had made more steps toward equality at that time.
Ginsburg Wasn't A Nervous Nelly
If you've seen "On The Basis Of Sex" then you definitely remember the scene where Ginsburg stands before the judges on the 10th Circuit Court of Appeals in Denver and lets her nerves get the best of her. The film shows her stumbling over her words and knocking over a mic, neither of which happened in real life. In an interview with NPR Ginsburg explained that she "… didn't stumble at the outset" and that what she said in her rebuttal wasn't what she really said but "got across the message just as it should be told."