Everyone doesn't love Christmas lights, but one old lady loathed her neighbors' so much she literally risked electrocution in order to cut their lights off.
Dan Hubbert, was going through his CCTV footage from home when he noticed an old lady stroll onto his property and cut down the bright Christmas lights shrouded around the tree in his garden.
"So it turns out some old gal doesn't like my Christmas lights… What should I do? Ring the old bill or let her go free?" he posted online.
You see in the footage, the outlandish moment the woman sauntered onto his garden in the middle of the night to commit vandalism – because, let's be clear, that's precisely what it is, even if it is pretty hysterical!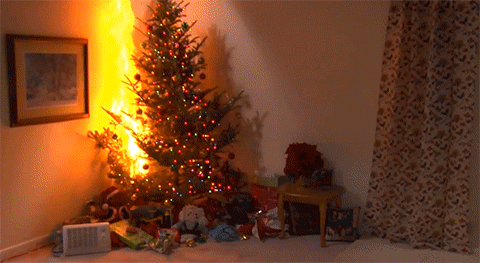 "Everyone wants me to ring the police on her. She should pay for them. If it was youths, I would've been straight on the blower to the police but she's old," Hubbert added.
"It could have caused an electrical fault or even electrocuted herself. You can't start going across the road and chopping down lights. I think I will call 101 and get them to go and have a word. I'm not that bothered really. I'm trying to find the funny side. (My children) just think it's funny as well. It is quite funny to see her toddle along and cut them."
To view the comical, but messed up video – CLICK HERE.
YOU MIGHT LIKE TOO:
Hilarious Anti-Trump Christmas Tree Ornaments
Convenient, Or What! Get A Full Christmas Dinner In A Single Can