It's hard to tell when President Trump is flat out lying and when he's just talking out of his ass in a pathetic attempt to appear intelligent. Either way, most of us know better than to trust anything that comes out of his mouth. At least he provides the world with ample amounts of entertainment. There's never a dull moment in the White House! Here are some of the most absurd lies Trump has told recently.
1. On The California "Forest Fires"
"There is no reason for these massive, deadly and costly forest fires in California except that forest management is so poor. Billions of dollars are given each year, with so many lives lost, all because of gross mismanagement of the forests. Remedy now, or no more Fed payments!"
It's hard to tell what was going through Trump's mind when he said this, but it's safe to say that assisting Americans in need certainly wasn't. The recent destructive fire in California wasn't a forest fire and had nothing to do with forest management. According to Jacob Bendix, a geographer at Syracuse University, the fire was fueled by a combination of less precipitation over the past year and higher temperatures. Basically, it was caused by climate change.
2. On Doctored Video Of Jim Acosta
Reporter: "Why did your Press Secretary share a doctored video of the incident in the East Room?"

Trump: "The taped video of Acosta?"

Reporter: "Yes, sir."

Trump: "What are you talking about? All that was –"

Reporter: "The video is manipulated."

Trump: "Nobody manipulated it. Give me a break. See, that's just dishonest reporting. All that is, is a close-up. See, that's just — that is just dishonest reporting. I watched that; I heard that last night. They made it close up. They showed it up close up. And he was not nice to that young woman. I don't hold him for that because it wasn't overly, you know, horrible. But it was — but all that was — when you say 'doctored,' you're a dishonest guy. Because it wasn't doctored. They gave a close-up view. That's not doctoring."
Perhaps Trump never saw the doctored video, but it certainly wasn't altered just to show a close-up of the incident. It was sped up to make it seem like Acosta practically chopped the intern's arm. When you view the original video,f it's pretty clear that their arms came into contact when she reached across him in an attempt to grab the microphone out of his hand while he was in the middle of a hand gesture to emphasize his words. Just see for yourself:
3. On Matt Whitaker
"Well, Matt Whitaker — I don't know Matt Whitaker. Matt Whitaker worked for Jeff Sessions, and he was always extremely highly thought of, and he still is. But I didn't know Matt Whitaker."
This is one quote of many where Trump insists that he doesn't know Matt Whitaker, the man he recently appointed to Acting United States Attorney General. Oddly enough, he said just the opposite a few weeks prior in an interview with Fox and Friends. When they asked Trump about reports that he had discussed the possibility of Whitaker taking on this new role with the man himself, Trump responded:
"Well, I never talk about that, but I can tell you Matt Whitaker's a great guy. I mean, I know Matt Whitaker. But I never talk about conversations that I had."
So one of these has got to be a lie, as they clearly contradict each other. There were also reports that Trump met with Whitaker numerous times at the White House, so it's likely that our president lied about not knowing the guy. Either that or he's experiencing early-onset Alzheimer's.
4. On Voter Signatures
https://twitter.com/realDonaldTrump/status/1060993836984324096
"Just out — in Arizona, SIGNATURES DON'T MATCH. Electoral corruption – Call for a new Election? We must protect our Democracy!"
When Democratic Rep. Kyrsten Sinema began to pass Republican Rep. Martha McSally in the midterm elections, Trump threw one of his typical Twitter fits. This time, however, he accused the state of electoral corruption with absolutely no evidence to back up his statement. Reports accuse Trump of not knowing how Arizona counts their votes, as a majority are mailed in. This takes time, which explains the "sudden" increase in votes for Sinema.
5. On Infected Ballots
https://twitter.com/realDonaldTrump/status/1061962869376540672
"The Florida Election should be called in favor of Rick Scott and Ron DeSantis in that large numbers of new ballots showed up out of nowhere, and many ballots are missing or forged. An honest vote count is no longer possible-ballots massively infected. Must go with Election Night!"
Trump clearly doesn't comprehend how long counting ballots takes, as he believes it can all get done by the end of election night. In a perfect world, it would be great if that could be done but it's just not possible. Aside from ballots in the machine, there are also those that are mailed in that need to be accounted for. It's hardly unusual for the process to take several days and any of the numbers seen on election night are estimates based on the votes already accounted for. When a race is close, however, it's those ballots that are mailed in can sway the vote in either direction.
6. On Lil Jon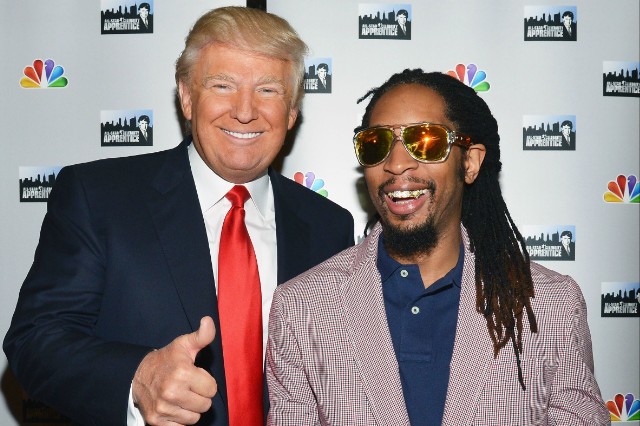 Reporter: "And the rapper, Lil Jon, has said you called him 'Uncle Tom.' What's your response?"

Trump: "I don't know who Lil Jon is. I don't — I really don't."

Reporter: "He was on 'The Apprentice.'"

Trump: "I don't know. Oh, he was? Okay. Oh, I see. I don't know."
Trump will literally lie about anything, regardless of how much evidence there is to the contrary. Donald Trump and Lil Jon more than know each other. The rapper appeared on the guy's ridiculous reality show TWICE, both which he made it to the final four contestants. In addition to all of the video evidence from the show, there are numerous photographs of the two together, tweets where Trump mentions Lil Jon, and interviews where they've mentioned each other. Now that's hardly something anyone with access to Google would be able to find if they didn't really know each other. The man will say anything to make people believe he isn't racist.