We hear often of stories about cheating spouses and the counter revenge served upon them . . . though, this one takes the (wedding) cake!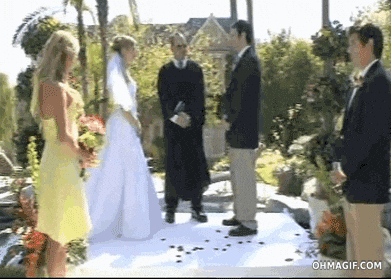 This fable includes Casey, a woman who got revenge on her unfaithful husband.
Alas, the revenge unveiled on their wedding day and it is something that is just way too odd to ignore. Casey shared the tale on a celebrated website and stated that at the altar she did not recite her wedding vows — instead — she read (out loud) proof of the fact that her spouse was having an affair!
"This was supposed to be the happiest day of my life, instead, I knew it was the end of my dream relationship and everyone was going to witness it," she reminded. "I felt he was The One instantly. Our families became friends, our lives were entwined, and I believed we'd live happily ever after."
The evening before the pair were set to say 'I do', Casey got a troubling email.
It enclosed screenshots from a strange phone number. The message attached to the email commented: "I wouldn't marry him. Will you?" The screenshot displayed a sexually charged text message discussion between another woman and Alex.
The screenshots were enough to make her irate, but the images of the two of them together pushed Casey over the edge. "The texts were dated from months to only days before," she said. "There was no questioning the legitimacy of these messages. I just knew."
Rather than cancel (the wedding), she conspired her revenge. So, Casey acted as if nothing was wrong on the wedding day. She swayed down the aisle as cool as a fan.
Casey alleges that Alex "tried to grab my hands but I put down my flowers to reveal my phone in my hand. I read every single message she sent me. With each word, more color left Alex's face. I let my weeping eyes rise and meet his, and he had not one thing to say. He walked out of the church with his best man trailing behind him. His family looked on, horrified."
YOU MIGHT ALSO LIKE:
Bride Tries to Ditch Fiance For Her Wedding Planner But Things Don't Go to Plan
Balls Of Fire: Heroic Fireman Groom Leaves Wedding To Help In House Fire