It's almost a time-honored tradition in America to criticize the president on what he says and the First Lady on what she wears. Melania might not enjoy being asked more about her wardrobe than the issues, but she was a model, so it kind of makes sense for the media to inquire about her fashion choices. Still kind of sexist, but the current First Lady might have to endure this criticism far more than others have in the past for that reason. So many of her outfits have gained attention since Trump came into office, but were they all for the right reasons? Here's a look at some of the First Lady's apparel choices that got attention for the wrong reason.
1. Melania In A Safari Hat
Melania's recent visit to Africa likely had some kind of political purpose, but whatever that was became overshadowed the moment photos started hitting the media. Specifically, pictures of her in a safari hat got a ton of negative attention. The First Lady was accused of having an outdated understanding of Africa's history, as these types of helmets were known to be worn by European colonial armies back in the day and are associated with colonialism. Since then they've become heavily associated with African fashion though, especially among tourists. To criticize her for wearing this kind of hat is a stretch, to say the least.
2. Melania Dressed For The Temple Of Doom
When Melania's trip brought her to Egypt, she took the opportunity to hold a little photoshoot in front of the pyramids. Once the photos went public, people immediately started comparing her to Michael Jackson and some guy from one of the Indiana Jones movies. While it might not be the most flattering outfit the First Lady has worn, she's in Egypt. She's covering herself up in the sweltering heat to be respectful, and all anyone can say is that she's dressed for the Temple of Doom.
Melania Trump visits Egypt. I feel I've seen that look somewhere before. pic.twitter.com/7vWRugxhne

— Stig Abell (@StigAbell) October 6, 2018
When asked about her fashion choices during her trip to Africa by reporters she responded saying, "You know what, we just completed an amazing trip, we went to Ghana, we went to Malawi, we went to Kenya, here we are in Egypt. I want to talk about my trip and not what I wear."
3. Melania's Misinterpreted Jacket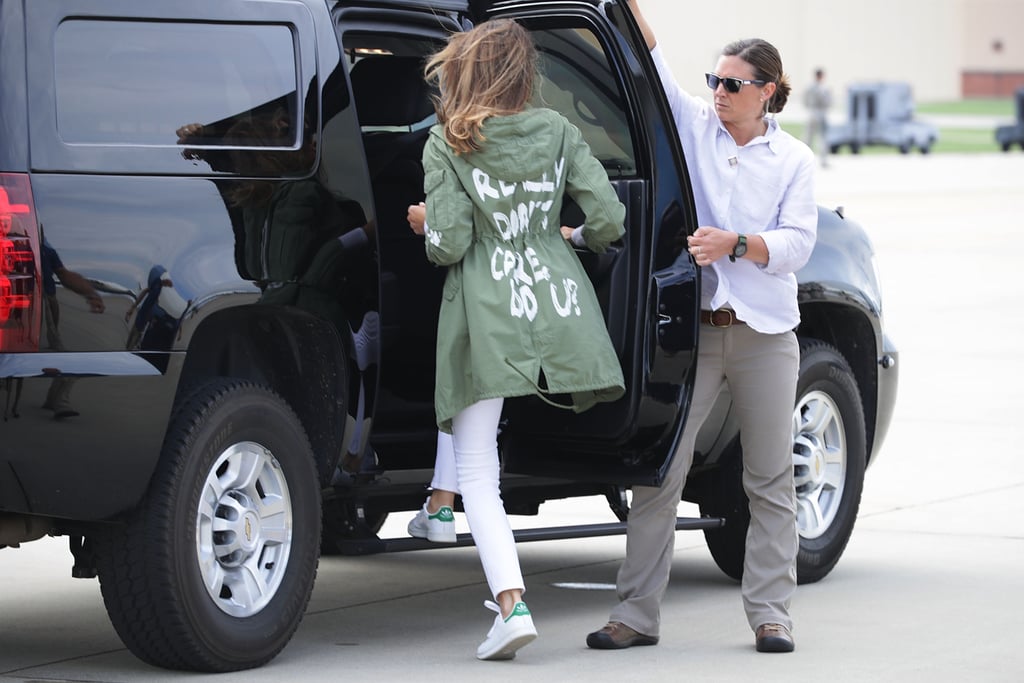 When Melania wore that infamous "I Really Don't Care Do You?" jacket on her way to visit immigrant children being detained at the border, it really pissed people off. Not only was it in poor taste for a First Lady to wear something like that, but it was also poorly timed. People took it as her way of saying that she doesn't really care about separated immigrant families as that was a huge issue at the time. It even inspired an opposing slogan that became popular at marches and protests like the one on this "I Really Do Care Why Don't You?" t-shirt. Melania's representatives have said dozens of times that the message was intended for the media, but their statements have fallen on deaf ears.
4. Melania's Over-The-Top Ensemble
It's not uncommon that celebrities get ridiculed for wearing big-ticket clothing items to certain events. Specifically, if the topic of the event is something that affects the everyday person. That's what happened when Melania wore this pink Delpozo dress to the United Nations. Her speech was on bullying, but it's safe to say that nearly everyone's attention was on her outfit. With a $3,000 price tag, she became ridiculed for wearing such an extravagant ensemble to speak about this type of issue. While the cost is certainly over-the-top, it's the fact that the dress is hideous that should have gotten everyone's attention instead. Those sleeves are just absurd.
5. Melania's Inaugural Outfit
Melania's powder blue dress that she wore to Trump's presidential inauguration was probably one of her most controversial outfits to date. Designers were refusing to design a dress for her left and right, and encouraging others to do the same. If you're at all familiar with the fashion world, those who refused included Sophie Theallet and Zac Posen. When Melania turned up wearing this Ralph Lauren dress, people gave the brand a ton of crap. Even though it didn't seem like the dress was specifically made for this event, a source from the company revealed to Glamour that, "We immediately started to get complaints about Melania Trump wearing [the label]. And people are using the #boycottralphlauren hashtag."
You can't really blame Ralph Lauren for Melania's wardrobe choice though. For all we know, she could have had one of her minions order a dress in her size and no one from the company knew the First Lady would be wearing it until they saw it on television and in photos. The real catastrophe here is that Melania chose Ralph Lauren. He has hardly created a high-end brand, but a White House representative claimed that the First Lady chose his brand specifically because Ralph "transformed American fashion." Maybe the two are buddies, and he did her a solid when other designers started publically refusing to make her a dress.
6. Melania's Lack Of Headscarf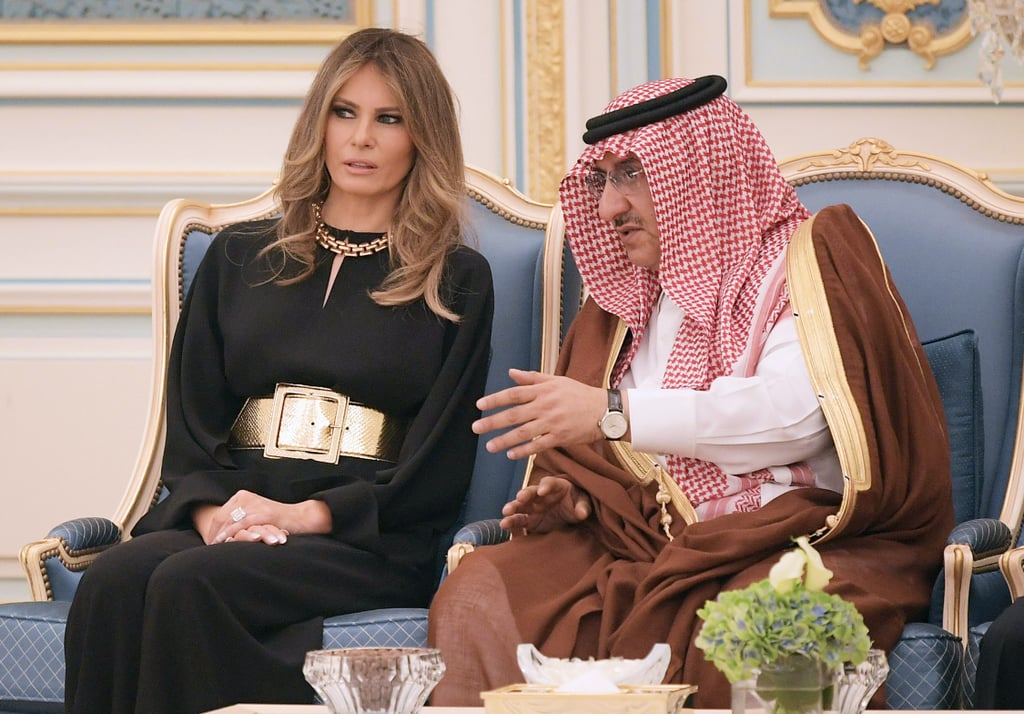 When Melania visited Saudi Arabia for the first time, she was given a decent amount of flack for not wearing a headscarf during her meeting with the king. While yes, there is a strict dress code for women over there and they traditionally cover their hair, Melania appears to be dressed modestly. They've also become more relaxed with their rules and women have their own shopping spaces were they're able to uncover their hair, free from the perverted male eye.
Later that month she wore a headscarf when meeting with Pope Francis though, making her decision not to wear a headscarf in Saudi Arabia appear more like an intentional snub. Perhaps it was, but it's more likely that she thought wearing a headscarf in Saudi Arabia would fall in line with female oppression while wearing one during her meeting with the Pope was a sign of respect. It also aligns with her religious upbringing as a Roman Catholic and may have felt more appropriate.