First, Canada makes marijuana legal. Now – they're geared to open a nude waterpark for extroverted adults.
The idyllic, pastoral nature of one of western Canada's most famed landmarks is set to alter drastically when Splasher's Pleasure Park opens and disrupts the family friendly dynamic the region has relished for years.
"It's a traditional water park spread over 27-acres," the proprietor says. "But the twist here is that's it's for adults only. It's a clothing optional park."
When quizzed about the health hazards presented by a grown person cruising a waterslide in the buff, he confessed that some aspects would need to differ from a traditional waterpark.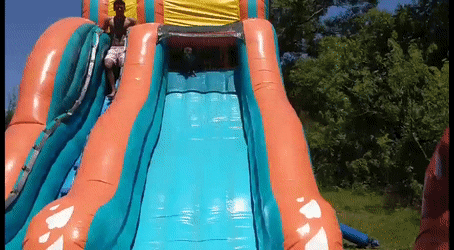 "You ride differently to protect yourself," he stated.
Well, we're pretty darn sure of that!
Though, if a male injures one of his oval organs on a waterslide (hypothetically speaking, of course), typically there'd be no effect on his sexual function. In most cases, the remaining testis produces enough sperm and testosterone to compensate for the testis that has been damaged or/and removed. Thereby, the one-gonad man should still be able to spring an erection and 'blurt out' same as he did before.
In turn, there are in facts health benefits to being a nudist.
For one, your skin will improve. Sleep apparel (especially if tight or synthetic) can cause skin to wigout, resulting clogged pores, rashes, and irritation, accordant to RealSelf advisor and dermatologist Dr. Sejal Shah. And when you sweat, it creates an environment for fungus and yeast to thrive, which, is gross.
The doc recommends sleeping in your 'birthday suit' to keep your skin clear and healthy.
YOU MIGHT ALSO LIKE:
Canada Is Using DNA Ancestry Websites To Assist In Deporting People
Canadian Cannabis Stores Face Shortage Supply After Legalization