Remember that time Donald Trump dressed up for Halloween? Of course you don't because the guy has probably never worn a costume in his life. Growing up he was the kid who put his hat on backwards while trick-or-treating with friends and called himself Vanilla Ice. Regardless, he has been caught on camera in a few unique getups over the years, most that will make you cringe. Here's a look at Donald Trump's classic Halloween "costumes" before he was president.
Beetlejuice
Back in the late '90s, Donald Trump attended a Halloween party in New York thrown by Kate Moss and Naomi Campbell to kick off New York Fashion Week. He attended with model Kara Young, who he was having a fling with at the time. While Young appears to have gone to the party as a peacock or some kind of masked figure, Trump's flannel getup has left people guessing for decades. Likely, he wasn't dressed up as anyone and went to the party in his street clothes (dull), but that hasn't stopped people from guessing. The best one so far is Alec Baldwin's character from Beetlejuice. What do you think?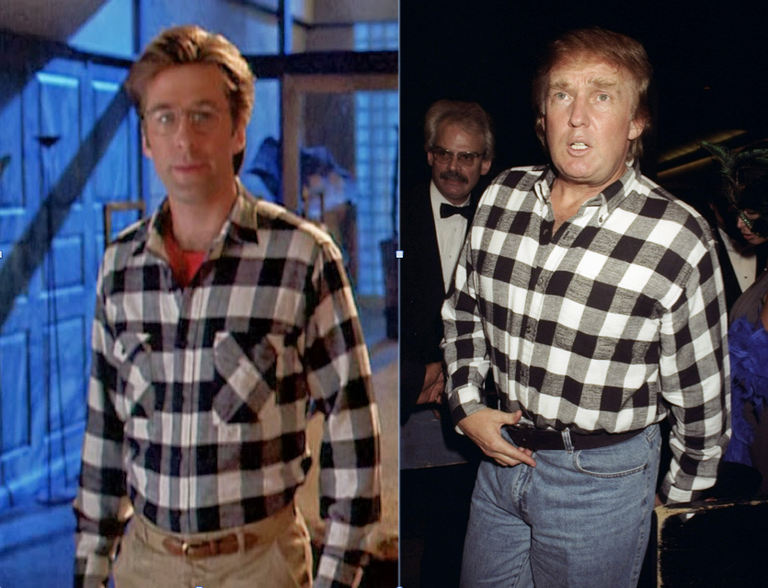 Farmer Joe
Back in 2006, this kind of getup would not only get you into the Emmys but allow you to sing a duet with a celebrity on stage. All that's missing is one of his suit jackets, and his resemblance to Grant Wood's American Gothic painting would be uncanny! Imagine if he could get Melania on board for a couples costume sometime in the future. Now that would be epic! Trump probably still has these overalls hanging in his closet somewhere, and the pitchfork has been neatly stored up his wife's ass preserving it for such an occasion.
Tony Montana
It would appear that Trump went through a Scarface stage. Perhaps wife number two had a thing for Al Pacino. Or is that wife number one? I can never tell. Anyway, with that red shirt and white suit jacket, Trump certainly has a Tony Montana vibe going on here. What do you think?
A Blind Retired Floridian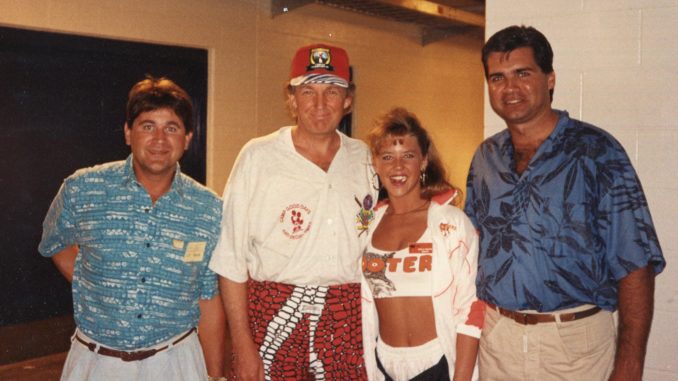 Trump HAD to have lost a bet to be wearing this monstrosity in public. He looks like he just lost 100 pounds but didn't have the chance to update his wardrobe just yet. Is he wearing pants? A towel? It's all one big mystery, but I just can't believe this isn't some kind of costume.
Saturday Night Fever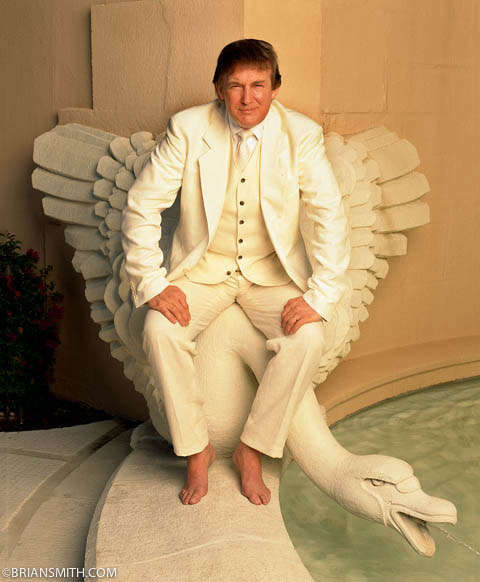 You likely recognize this photo. Trump's family photo shoot from way back has been making its rounds on the internet ever since he decided to run for president. For obvious reasons, it has been the subject of a ton of scrutiny. Here, Trump seems to be radiating his inner Tony Manero, which is John Travolta's character from Saturday Night Fever. You almost expect him to get up and start to disco, barefoot by that hideous swan fountain. That might just be some wishful thinking on my part though. What do you guys think? Here's another picture from the same photo shoot to persuade you to take my side on this one.