There are various small statues of President Donald Trump with a yellow sign around them asserting: "Pee on me" popping up all across Brooklyn, NY.
Phil Gable, advertising professional, affixed the statues; which bring a plug for his branded content atelier over the weekend, according to reports.
"It was largely just a personal expression of my own disdain for Donald Trump, both as a President and a human being," said Gable to inquirers.
"I went with the younger-looking Trump because I think that's probably how he sees himself, especially when he's paying Russian escorts for gold*n show*rs."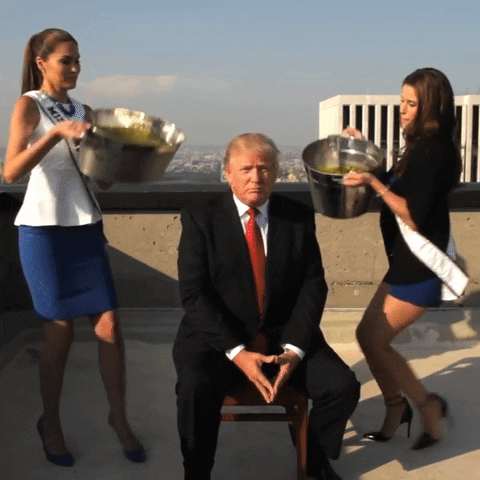 The statues are adorned on small patches of grass and have evidently been sprayed with dog potty-training aids to incentivize any transiting pooches to do a number one.
"The reaction has been really great so far-I mean really great, probably some of the greatest reactions anyone has ever had to anything, ever," Gable furthered.
He described his activities as 'a new, funny way to express the disgust that so many of us feel.'
Just two weeks ago, President Trump had his Hollywood star placed 'behind bars' for a short stint after a repeat defacer marred it — yes, again.
Street artist dubbed as 'Plastic Jesus' put wooden bars configured to mimic a jail cell over the star – and posted a picture with the caption: "Trump behind bars. Finally."
The artist from the UK told the NYP: "I feel that President Trump should be jailed for his corruption.
"I try to do my pieces in a way which doesn't vandalize the Walk of Fame too much."
YOU MIGHT ALSO LIKE:
Best Of 2018's Anti-Trump Halloween Costume Collection
13 Halloween 'Trumpkins' To Inspire Your Next Pumpkin Carving Adventure