A woman who was struck by a golf ball at the Ryder Cup claims she has lost the sight in her right eye.
Corine Remande, 49, was hammered last Friday by a Brooks Koepka drive on the sixth hole.
After the ball hit, she tumbled to the ground and received medical attention from the team prior to being rushed to hospital in Lyon, where scans revealed she had a fracture and 'explosion of the eyeball'.
Doctors later indicated to the woman that she had lost sight in her eye.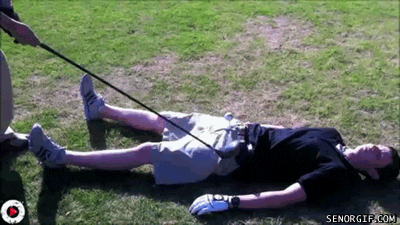 Remande, who had flown over from Egypt with her spouse to witness the cup, said: "It happened so fast, I didn't feel any pain when I was hit.
"I didn't feel like the ball had struck my eye and then I felt the blood start to pour.
"The scan on Friday confirmed a fracture of the right eye-socket and an explosion of the eyeball."
Now, she is contemplating launching legal action to pay for her medical expenses.
And she said golf was "boring.."; Photo: Giphy
Remande alleges there was no warning from officials at the event and that no one has contacted her since.
She furthered: "Quite clearly, there is responsibility on the part of the organizers. Officials did not shout any warning as the player's ball went into the crowd."
Koepka went to check on her condition promptly after she was hit. The golfer seemed to be 'visibly shaken' following the accident, according to onlookers.
Afterwards, he stated: "It looked like it hurt! It's hard to control a golf ball, especially for 300 yards, and a lot of times the fans are close to the fairway. You can yell 'fore' but it doesn't matter from 300 yards, you can't hear it."
YOU MIGHT ALSO LIKE:
Teen 'Feels Like Superman' After Being Hit With A Lightning Bolt