Footage from an underwater camera installed at the Katmai National Park & Preserve in Alaska has surfaced of a bear, dubbed Hollie, swimming about and diving to the bottom of a river to nab a fish.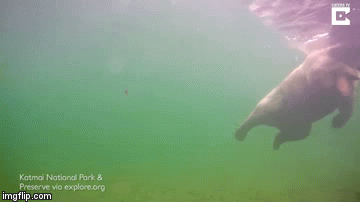 Holy smokes, check that out!
Hollie, is a brown bear, who are only rivaled in size by their nearest relative, the polar bear, which is slightly larger on average and much less variable in size. A large male brown bear stands up 5 ft tall at the shoulder, when it is standing on all four legs. When standing fully perpendicular on its hind legs, a male could reach a height of 9.8 ft.
Brown bears range from 300 lbs to 1,500 lbs in weight, thereby, Hollie swimming with the grace of a lab whilst simultaneously angling is totally mind-bending!
In spite of their reputation, most brown bears are not very carnivorous, as they procure up to 90% of their dietary food verve from vegetable matter. All the same, they'll eat just about anything — fish, deer, small mammals, honey, berries, plants and nuts — they'll freckin' eat your garbage if you let them.
Brown bears live off their fat during winter hibernation, so they are hungriest when they emerge from their caves in the spring (so don't be anywhere around!).
This particular bear loves salmon, especially (and other fish). In Washington, Canada and Alaska, they stand in rivers and catch the fish with their paws or in their mouths.
YOU MIGHT ALSO LIKE:
This Is Not A Fish Tale: Horror Aquarium Is Now Open In Japan