Have you ever noticed how some memes just don't get old? Even some political memes, which you would think would get old as the news changes, still have me ROFL after seeing them a dozen times. These political memes from the last decade (or so) will have you in a fit of giggles no matter where your views lie on the political spectrum.
Bill And His Interns Meme
This one always cracks me up. Bill Clinton is such a dog, but unlike Trump, he somehow managed to get the world to forget about most of the rape and sexual assault allegations made against him. Yet, we just can't forget about his tryst with Monica Lewinsky. It's hard to believe that she served as the president's intern at the time since she has always looked like a woman in her early 40's. Even to this day, which makes sense since she's now forty-five.
The Trump Hillary Debate Meme
Whether you were pro-Hillary or pro-Trump during the last presidential election, you have to admit that this political meme is hilarious. It can be seen as a dig at either of them and is one of those rare memes that doesn't seem to take sides.
The Greatest Hold My Beer Meme
Remember when everyone thought President George W. Bush was the worst thing to happen to our country? Now we have Trump to deal with, and there are a ton Bush's former haters changing their minds about his presidency. Yes, 9/11 sucked, and it may or may not have been some kind of government coverup, but it brought our country together. Now we're more divided than a pizza at a kid's birthday party.
Every Biden Obama Meme Ever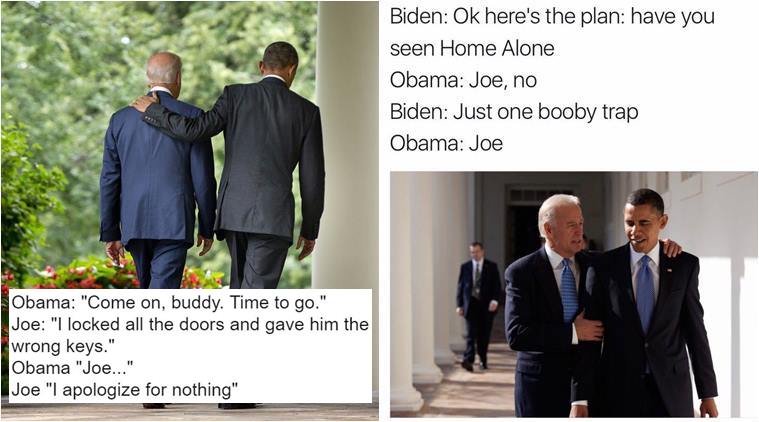 While nearly every meme showing Biden and Obama's friendship is epic (#RelationshipGoals), the few that picture Biden telling Obama about the White House obstacles he left behind for Trump are timeless. Whoever started this concept is a comedic genius. I really hope they left something behind to prank that Cheeto-brained moron. Itching powder in his bed. Peanut butter on all the door knobs. Maybe even some Nair in his shampoo bottles. You know, the classics.
The Sugar Daddy Meme
It's safe to say that Melania didn't grow up hoping to be America's First Lady one day. It's even safer to say that she hoped the American man she married in order to gain citizenship would have died in his 60's. No one expects their sugar daddy to become president of the United States, forcing you to actually work for the first time in your life.
The Facebook Profile Pic Meme
About as useless as sending your thoughts and prayers to people over the internet is the act of changing your Facebook profile picture for political reasons. It may come as a surprise, but these are not actually considered authentic votes. When our culture is the subject of a scientific study hundreds of years from now, assuming climate change hasn't killed everyone on Earth by then, it's this aspect of our society that will force them to doubt our intelligence.
Bill Clinton For President Meme
If this political meme doesn't take you back to Trump's scandal-filled presidential campaign, then I don't know what will. Unfortunately, Bill Clinton won't be running for president again. Unless, of course, Trump changes the laws in his favor. We all know he'd love to get rid of the two-term maximum so he could rule our country for all of time. And it would literally be for all of time because the world would end in World War III before Trump died of natural causes and gave up his seat in the Oval Office.