The alt-right is composed of some truly unique characters. Neo-Nazis. Holocaust deniers. White supremacists. Bible-thumping hypocrites. You know, a collection of our country's finest citizens who've been failed by our inadequate education system. Whether you're looking for a laugh or to troll an article that contains a few funny pictures, you can't deny that these memes perfectly sum up the alt-right!
The Alt-Right And Their Freedom Of Hate Speech
The alt-right can't seem to figure out the difference between freedom of speech and hate speech, which I know can be confusing at times. See, freedom of speech is the right to voice your opinions, but not without consequence. Hate speech is a verbal attack on someone based on their race, sexual preference, religion, etc., also not without consequence. So, while Billy Bob here is upset that he was censored for sharing a meme that promoted the murder of a group of people based on their religion as well as gave homage to one of the most horrific periods in history, perhaps he should think about it this way. If he had shared his opinion as to why he feels his religion is more superior in an intellectual way, then perhaps his moronic words would have been able to remain online for future generations to laugh at for all eternity.
Pepe The Frog Depicts The Alt-Right
In this meme, Pepe the Frog resembles every form of the alt-right in existence. We've got everyone from the White Lives Matter crew to the anti-feminist crowd. If you're trying to figure out what kind of alt-right someone is, this photo is an incredibly handy guide to the options you can choose from. But keep in mind, their beliefs can overlap so a neo-Nazi can also hate feminists or be overly religious. This tends to make them easier to spot.
But even Pepe the Frog doesn't want anything to do with the alt-right…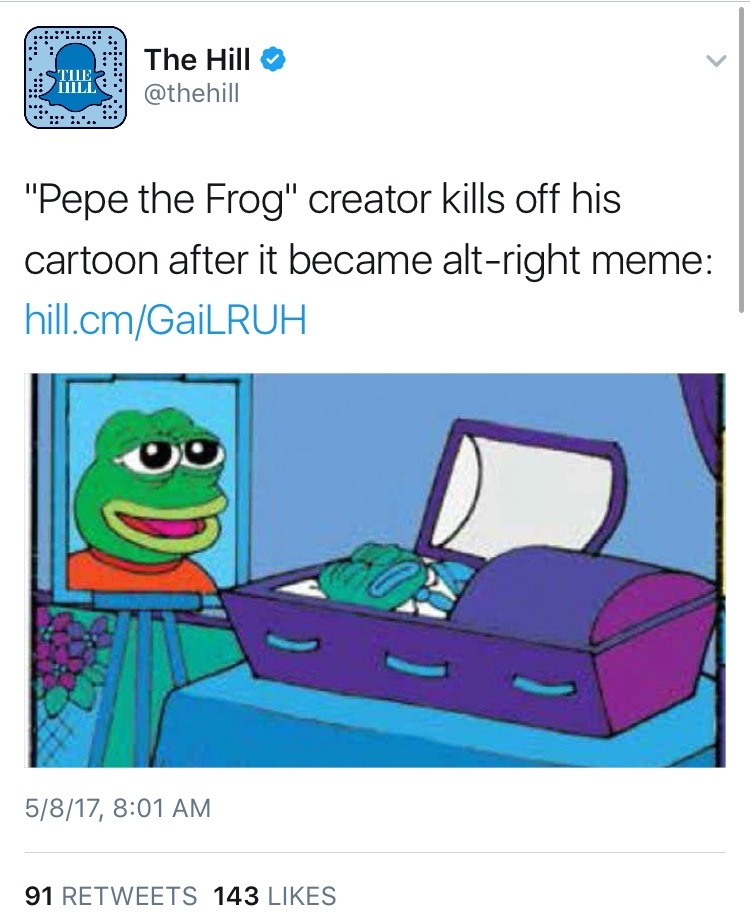 The Alt-Right And Their Double Standards
While the alt-right thinks their political views and opinions are perfectly logical, the rest of the world likely disagrees. When it comes to Donald Trump, the alt-right believes the man can do no wrong. They want our country to be wholesome, according to their definition of the word, and white Christian. Meanwhile, they voted the least wholesome guy on the planet into office who can't stand being in church and is on his third wife who is a far away from being American as humanly possible. They support anything the man does or says, even his own hypocritical actions. When it just doesn't make sense, then it's got something to do with the alt-right for sure.
The Alt-Right Think They're Helping
They wave around their swastikas and spread their hate with signs and t-shirts, thinking they're helping the world realize that all of the things they stand for are actually the only way to live. That they somehow know the secret of peace and prosperity, and the secret is racism, hate speech, and sheer stupidity. At least they're not focusing on spreading their hate to the next generation by procreating with each other.
The Alt-Right Can't Figure Out How To Nazi Properly
We all know it has been a while since Nazis went out in public without a white pillowcase on their heads, but it seems that during this time they have forgotten the essentials of getting the job done. Drawing a swastika is like the first thing you learn in the school of hate speech, but they can't even get that right. You'd think they could just glance at one of their many swastika tattoos or do a quick google search. At least their stupidity has left us with quite a few images to laugh at.
The Many Classes Of The Alt-Right
I don't know what half of the words on this list mean, but that seems about right as they're all describing some kind of class the members of the alt-right belong to. They do, however, all sound like they'd be the ideal subjects for a game of Kiss, Kill, Marry. Except, of course, if you're reading this then you'd likely want to kill them all. I guess we all need ways to describe ourselves to better understand our identities and who we fit in with. Even the alt-right nut jobs.
Women Of The Alt-Right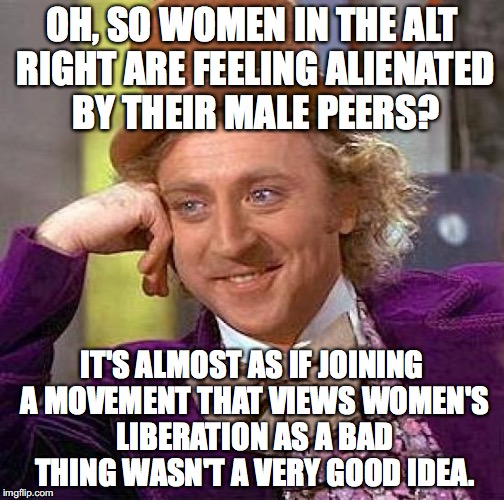 While it might be hard to believe it, there are women who actually partake in the alt-right movement. The movement that believes they should stick to their roles as mothers and housekeepers and nothing more. The same movement that thinks the spreading of the idea that women deserve equal rights is the same as the spreading of the deadliest disease of our lifetime. Then they're shocked when these alt-right men treat them like garbage. News flash ladies! They don't want you standing at the rallies next to them. They prefer you at home making sure there's a hot meal on the table for them when they get home.
When The Alt-Right Doesn't Get What They Want
The alt-right is set to destroy the world with their hate, but can't seem to hold back the tears when things don't go their way. Their internet hate speech is removed, so they cry. They're not allowed to kill people for being Jewish or Muslim, so they cry. They can't find the money for their ridiculous wall, so they cry about it. Women are out having abortions, and interracial couples are procreating every day, and there's nothing they can do about it but cry.
When Veterans Get A Say
If you don't personally remember World War II, then you remember learning about it in history class. Our military fought the Nazis once, there's no doubting that they can do it again if need be. Considering how most countries have deemed Nazism a crime and any Nazi paraphernalia illegal, it would seem that the United States is behind a bit. Since the government can't seem to figure out how to keep the peace in our country, punching a Nazi doesn't sound so bad right now. If their hatred isn't a crime then maybe hitting them in the face a few times shouldn't be either.