A cafe in Taiwan is going viral thanks to the eatery's signature ice cream dish — in the hyper-realistic silhouette of a baby dog.
Move aside Cronuts and Black Tap Milkshakes, because there's a new sugary treat that the residents of the internet are obsessed with at the moment: ice cream puppies.
The J. C. Co Art Kitchen in Kaoshiung is reeling in customers by serving up gelato in the shape of shar pei, labrador, pug puppies.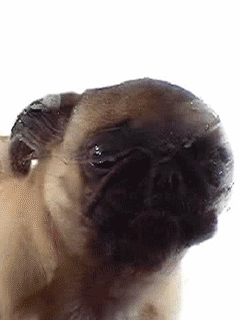 The Kitchen's pastry chefs only make 100 of these widespread best-selling treats per day. The ice cream receives its shape from a plastic mold, and additional details are hand-applied before the pups are served to guests.
One fan of the ice cream puppies tells, "When its eyes are looking at you, it really feels like a real dog is looking at you." The ice cream pups are so realistic that it's borderline creepy to see someone bust through their skulls with the gelato spoon.
One shopper was quoted as saying she had 'mixed emotions' about the puppy-shaped treat, and even feels "sorry for him."
"It is as if a dog is lying here and I feel like cutting into him will hurt him," said the patron.
The alarmed customer isn't alone, either, as video of the ice cream has left social media torn.
"OH MY GOD WHY DID YOU MAKE ME WATCH THAT," one subscriber wrote in response to footage of a spoon scooping off the puppy's "head."
@WiIdLilys I almost reported this tweet ????

— Cedric (@CaptainPerox) August 5, 2018
OH MY GOD WHY DID YOU MAKE ME WATCH THAT ????????

— Lily (@WiIdLilys) August 5, 2018
"I SCREAMED," wrote another user.
I SCREAMED

— ???????????? Nicoley Pepsi-coley ???????????????????? (@autisticanadian) August 7, 2018
The desserts come in 3 flavors, which include chocolate (Pugs), earl-grey (Labradors) and peanut (Shar Peis). Each costs around $110 and $188 Taiwanese dollars, or between $3.50 and $6 USD.
YOU MIGHT ALSO LIKE:
Hilarious: Puppy's Escape Attempt Backfires