While some believe that Melania Trump is being locked away in the White House by her husband like some kind of Disney princess, others believe she might actually be trolling the president on a regular basis. Not just trolling him on Twitter either, but she has taken things out of the internet world and into real life. To top it all off, Melania is trolling Trump with fashion, something that man couldn't possibly understand. Check out these photos that confirm Melania is trolling Trump in the best possible ways.
The Big Pussy Bow Event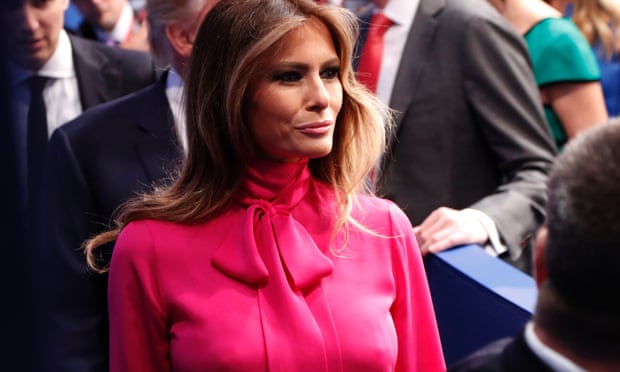 Remember when that 2005 Access Hollywood tape surfaced? Of course, you remember. It was the now infamous tape where Trump made some incredibly sexist comments and talked about grabbing women by the pussy. Democrats and liberals were hardly surprised when the news broke, and perhaps even relieved as it was safe to say at the time that there was no way anyone would vote for Trump after what he said. Obviously, we all know how that turned out.
So, when Melania decided to show up to the second presidential debate wearing a pussy bow shirt just two days after the tapes were leaked, the media went insane. Everyone was convinced that she wore it intentionally as a dig at her husband. For those who aren't aware, the pussy bow is a kind of formal shirt women that was developed by major designers back in the day as a sort of woman's bowtie. Analyzing this photo on its own, her wearing this shirt could have been a coincidence. However, when you look at all of the other pictures, her trolling capabilities become far more clear.
Melania's Hilary-Inspired Pants Suit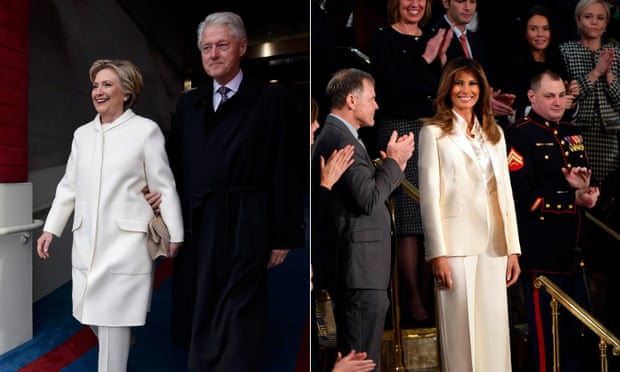 After the news broke that Trump not only had an affair with porn star Stormy Daniels but that he also paid her a significant amount to keep quiet about the whole thing, Melania understandably made herself scarce. There were even reports that she canceled travel plans with him and that she was living in a hotel. It wasn't until the State of the Union address that Melania showed her face in the same room as Trump, and it became pretty clear by what she was wearing that she was less than amused by her husband's behavior.
If Melania's Christian Dior pantsuit looks familiar, it might be because Hillary Clinton wore something similar for the inauguration as a form of protest. Additionally, Nancy Pelosi and a dozen or so other women wore white pants suites to recognize the women's suffrage movement, which is associated with the color. Imagine what Trump must have thought the moment he saw his wife walk in the room wearing the same outfit that the very group of women protesting his presidency were wearing, labeling their selfies with #WomenWearWhite. There's no way that Melania didn't wear that suit intentionally.
The Jacket That Will Go Down In History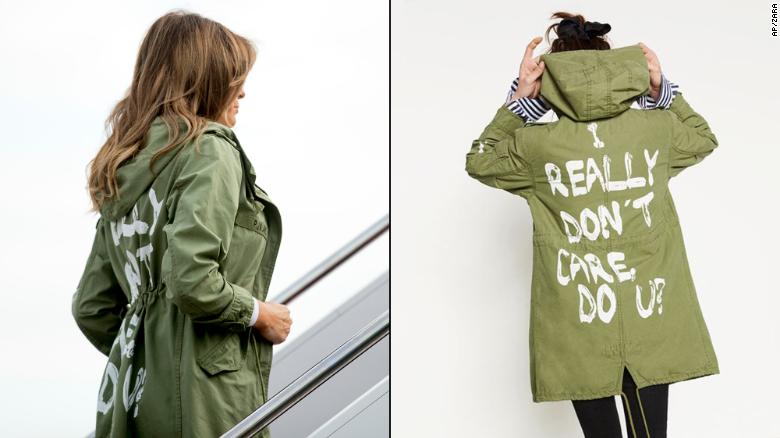 Melania made a bad fashion choice by wearing a jacket with the words "I REALLY DON'T CARE, DO U?" written across the back while hopping on a plane on her way to visit the immigrant children her tyrant of a husband separated from their parents and stuck in cages. The media took it as her way of saying she didn't care about what happened to immigrants after being detained by ICE, but if that were the case, then it wouldn't exactly make sense that she waste any time visiting them. A team of PR professionals came up with another excuse for her poor judgement, claiming that she was attempting to send a message to the media for publishing all that "fake news" about her husband's affairs.
While that is certainly a possibility, there are some who think Melania's rebellious fashion choice was directed towards Trump himself. Apparently, Mrs. Trump (the third) was miserable being held up in the White House without the freedom she was used to prior to becoming the First Lady. The words on her jacket were allegedly intended to speak about the fact that she was sick of everything that comes along with being married to the President of the United States. Likely she was sick of all of the affair rumors and criticism coming her way, but there's no way of knowing exactly what was going on in that pretty little head of hers.
Melania Follows Barack Obama On Twitter
We all know just how important Twitter is to our darling president. It's safe to say that Trump has spent most of his presidency tweeting away, so at some point, he must have stumbled upon his wife's page and checked out who she was following. Make sure she's not following anyone he has deemed to be a "loser" or "moron" for the sake of his image.
Fortunately, Melania follows just six people on her @FLOTUS Twitter account, two of which are her husband, so Trump didn't have to take too much time out of his day to investigate. Surprisingly, one of the selected few is former president Barack Obama himself. It would seem that he left quite a pleasant impression on the current First Lady at former First Lady Barbara Bush's funeral. I wonder if Trump knows that the woman he pretends to share his bed with each night is friends with his arch nemesis online.
Melania's Dress Designed By Trump Protestor
When welcoming King Felipe and Queen Letizia of Spain to the White House, Melania chose a beautiful Valentino dress from the Resort 2018 collection by Pierpaolo Piccioli. Yes, that's a lot of fashion jargon but stick with me. Piccioli, the creative director for the brand, is a known Trump hater and was seen walking around in a "F*ck Donald Trump" hat the day after the election. He also stated that the collection Melania's dress is from was inspired by diversity and "finding the harmony in difference."
To the average person, Melania's dress wouldn't appear to hold any meaning. Even Trump himself probably didn't give the sleeveless olive green dress with white detailing a second thought. Considering her background in the fashion industry, however, it wouldn't be surprising at all for her to use this dress as a form of rebellion.