Cynthia Nixon might be best known for her role as the blunt yet reasonable Miranda on Sex and the City, but these days she's in front of the cameras for a far different reason. Nixon finds herself in the political race for governor of New York as what she calls the anti-establishment democratic nominee, and she has never been more badass. Fans of the show are hardly surprised to see one of their favorite characters taking on politics, as Miranda literally embodies what you'd want in a female leader. Yes, we know it's not actually Miranda who's running but there's no way that Nixon didn't pick up a few of her character's strongest personality traits. If she even had to. The two seem to be quite similar in their morals, beliefs, and overall ambition. In fact, there have been a ton of moments on the show that proved Nixon had it the drive for politics in her the whole time. Here are the most epic SATC memes that predicted Nixon's decision to run for governor of New York.
Nixon Knows Where Religion Belongs, And Where It Doesn't
For some reason, our country is one of the last few developed nations still shoving religion down people's throats. We're the land of the free, but only if your religious and moral beliefs align with what the government dictates. Miranda knew better, and when her housekeeper turned nanny, Magda, attempted to change her lifestyle by replacing her favorite vibrating toy with a statue of the Virgin Mary, she certainly didn't let it slide. As a known advocate for the LGBT community, Nixon has been fighting for equal rights for years, even helping gay marriage rights come to exist in New York several years ago. If she becomes governor, it's safe to say she will continue to support the LGBT community as well as others that feel they're treated like second-class citizens. She embodies equality and those with religious beliefs other than Christian seem to be in need of some of that love these days.
Nixon Is A Woman You Don't Want To Silence
In the second installation of the Sex and the City films, we got to see Miranda stand up for herself against a boss who was kind of a dick. He would often raise his hand to silence her during meetings, which is not an uncommon occurrence for women in the workplace as men are often threatened by women who are smarter than them. Miranda protests this sexist behavior by putting up her own hand of silence and we hope that Nixon will do the same for women IRL on a larger scale. In the past, she has pushed for women's reproductive rights and is a huge supporter for Planned Parenthood, which is exactly what we need in New York these days. Someone to put this country back on the right track. And if anyone is going to help give women a voice in politics, it'll be Nixon.
Nixon Has Well Thought-Out Opinions
Miranda may have been sarcastic both in this scene and nearly every other, but she always had something profound and thought-provoking to say throughout the series. Her opinions never came off as being carelessly put together, but instead were thought-out and to the point. Miranda may not have been lucky in love on SATC but she never hid her intelligence, becoming a role model for women watching the show who felt they had to dumb themselves down to be liked by men. Fans would like to think that Nixon used much of her real-life thoughts and opinions to help her mold her character, as the similarities are pretty apparent. While Nixon never fails to make her voice heard on the issues that matter, she also aims to give a voice to those who need it most. Something we can all look forward to seeing more of.
Nixon Is Unapologetic
As a successful lawyer on SATC, Nixon's character often found that she was more successful and more well-off than the men in her life, but she would hardly apologize for it. Why should she? Miranda didn't apologize for much throughout the series including her dislike of all things girly, not wanting a child, considering an abortion, or having a nontraditional wedding in a kind-of hideous (sorry!) burgundy dress. Her unapologetic success as a lawyer turned partner not only ties into Nixon's feminist persona in real life, but it has become a modern-day model for working women to follow these days. Why should we hide from our intelligence or how much money we make from the men we date? She taught women that we don't need to apologize and that we shouldn't have to sacrifice our careers for happiness.
Nixon Knows How To Please Men
While knowing how to please a man can be important in many relationships, it's also essential in politics. Unfortunately, our government is still quite the boys club, so a woman would need to know how to handle herself around such a crowd so that she's not only taken seriously but so that she's not walked all over. Nixon's role as Miranda certainly prepared her for this as any fan of the show knows that Miranda took crap from no one. More than just standing up against her boss' rude technique for interrupting her in the second film, Miranda spoke out against sexual harassment, spoke up for women's reproductive rights, called out abusive men and showed us that non-traditional relationships can still succeed. Knowing this makes Nixon's supporters confident that she'll be able to put these overly-confident male politicians in their place when necessary. Hopefully one of those male politicians will be Donald Trump.
Nixon Doesn't Hold Back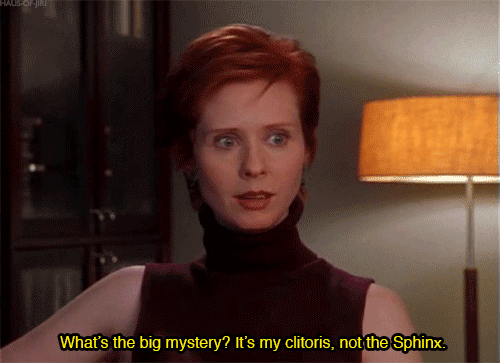 When it comes to talking about sex, we all know Miranda never had a problem getting what she wanted on SATC. Nixon has proved that she also doesn't have a problem discussing the tough issues, whether it be legalizing marijuana or getting women the healthcare we deserve. The last thing New York needs is another Trump, a man in power who's too immature to discuss birth control or menstrual cramps without making a period joke. So, lets get Miran…I mean, Cynthia Nixon on that damn ballot and into office!