Press assembled at Pinewood Studios this morning for the first solid details on the next James Bond movie — which has been formally announced as being titled Spectre. We've known that such a reveal was in the offing for a little while, but now it seems that the hype train for the much-anticipated follow-up to Skyfall has left the station — here's why you should be excited.
1. SPECTRE is Back
The insidious organization that Bond battled in films like Thunderball and You Only Live Twice are set to make their return to the big screen — and, given that the new 007 movie is named after them, it seems like they'll be playing a big role. It seemed that Quantum would act as a replacement for SPECTRE in the Daniel Craig movies, but purists will likely be happy that the original evil organization is back in business.
2. Skyfall Set Things Up Perfectly
While Casino Royale deserves a lot of credit for rejuvenating the Bond series, Skyfall managed to reintroduce many classic elements that fans felt were missing in Quantum of Solace. With Q and Moneypenny back in the fold, there's a little bit more of the old days in this new Bond — and the balancing act of intense action and humor is perhaps in better equilibrium than ever before.
3. Christoph Waltz is the Perfect Villain
Announced as playing 'Franz Oberhauser' — but it'll be a surprise if he isn't revealed as Blofeld by the end of the movie — Christoph Waltz is an ideal choice to play one of the most iconic characters in the Bond series. His work in Inglourious Basterds and Django Unchained brought the actor to international acclaim, and it will be very interesting to see what he does with this role.
4. The Supporting Cast is Excellent, Also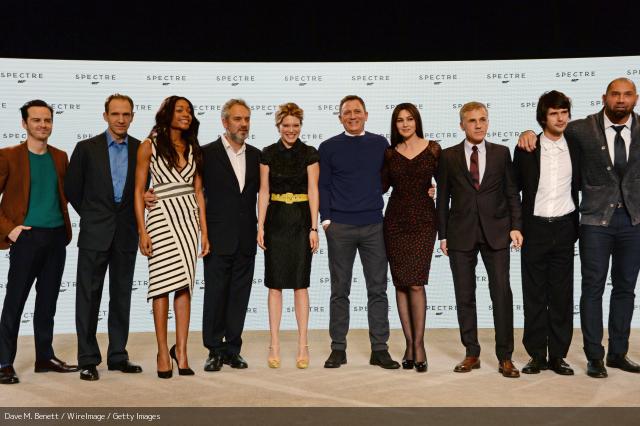 Between returning cast members like Ralph Fiennes and Naomie Harris and new faces like Monica Bellucci and WWE wrestler Dave Bautista, Spectre certainly has a very appealing cast going for it. Keep an eye out for Andrew Scott — his turn as Moriarty in Sherlock has won him many fans, and this could be his opportunity to transition to Hollywood.
5. It's Coming Out in Less Than a Year
Spectre is the latest movie to have a confirmed date in the hectic 2015 film release schedule. Releasing on October 23rd in the United Kingdom and November 6th in the United States, the movie avoids the summer rush of films like Avengers: Age of Ultron and Jurassic World, and hits just before the massive Star Wars: The Force Awakens. Will it be able to replicate the global success of Skyfall? Only time will tell.